Environment
Promoting practices that respect nature and the living world
For people who depend on cultivating and producing from the land, such as those in rural and remote regions of India and Nepal, the environment plays an important role. Unfortunately, the effects of climate change are already being felt: severe droughts and torrential rains follow one another, having a major impact on vulnerable populations with no means of adapting.
Some figures : In Kathmandu, the number of vehicles has tripled in 10 years, exacerbating the air pollution problems facing the Nepalese capital, which will be classified as "the world's most polluted city" in 2021. India, for its part, faces another major problem: the country produces around 6 million tonnes of non-recyclable plastic waste every year. A figure that is exploding due to strong growth in consumption.
Our environmental programs help communities to adapt and reduce these harmful effects over time, through family- or village-level solutions.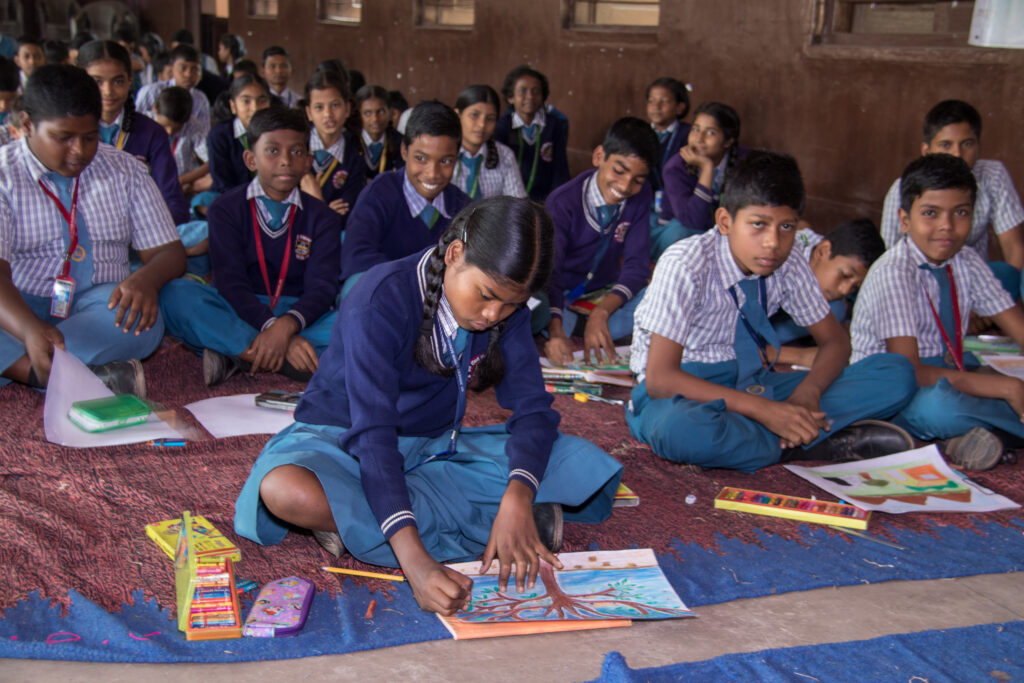 In India, our voluntary actions encourage the planting of trees along roadsides and in village communities to improve the well-being of populations in both urban and rural areas.
In Nepal, heavy rainfall following drought – combined with increasing deforestation and urbanization – is causing landslides. The environment is weakened, and air and water pollution have a major impact. Our activities strengthen the resilience of populations by providing them with solutions to improve their living conditions while preserving the natural environment that surrounds them.
Our impact in 2022

8,150 trees planted and maintained

3,820 people made aware of eco-responsible attitudes

3,150 villagers benefiting from green electricity
One of our programs in India
A responsible attitude – Environmental awareness
In India, the excessive use of single-use plastics is causing serious environmental problems that people are not always aware of.
Through our awareness-raising campaigns, we aim to make local residents aware of the drawbacks and harmful consequences of their plastic consumption and management habits. We encourage them to use more environmentally-friendly alternatives, such as burlap bags, in order to minimize and eventually stop the use of plastic.
We work collectively in villages and schools to make future generations aware of their environmental impact. The regular distribution of bags among our patients, students and other beneficiaries, combined with a strong message of environmental awareness, helps to change social behavior.
The children were really enthusiastic about taking part in this environmental awareness program. The contest and quiz organized with all the students werefun. This program is useful and hopeful for the future. It will improve students' skills and make them more responsible, especially when it comes to the use of plastic and respect for nature.

Manik Lal Matho, elementary school principal – India

In 2022, 6,327 jut bags were distributed.
I support the fight against plastic pollution
One of our programs in Nepal
Raising awareness – Improving waste management
Nepal is experiencing an increase in the use of plastic and other non-biodegradable products in communities that have no waste management circuit and lack the knowledge to manage them.
As part of this program, Karuna runs awareness campaigns to inform people who are not always aware of the ecological consequences of poor waste management. But when they do want to implement solutions, they are faced with a lack of technical and financial resources. In the absence of viable solutions from local authorities, Karuna also offers training and distribution of waste management equipment.
This approach, which is both educational and formative, helps to raise awareness and increase capacity to manage waste without harming the environment. Karuna's interventions in schools give young people the opportunity to pass on their knowledge and take on leadership roles in environmental protection within their communities.
Our village is faced with deforestation, leading to the pollution of the surrounding areas and rivers, the village's main sources of drinking water. Karuna's program cultivates responsible attitudes among young people, who then act in groups to share what they learn with their community, visiting each house. The whole village is involved in the clean-up and nature conservation initiatives

Som Bahadur Tamang, elementary school teacher. Nepal
By 2022, 850 villagers will be using waste management equipment.
I support improved waste management in Nepal
Our method of intervention
Adaptation and cooperation are at the heart of our strategies. Our activities aim to help people in need to improve their own well-being, that of their community, and that of the environment of which they are a part.
We involve the beneficiary populations in the entire project-building process, fostering empowerment and responsibility while strengthening their ability to overcome social inequalities. We place particular emphasis on involving the younger generations in preserving their environment, raising their awareness and passing on the keys to becoming responsible citizens.
Find out more about our environmental programs