Caring for the environment has always been one of Karuna-Shechen's significant commitments. UNESCO says that it is essential to raise awareness among young generations in order to preserve the planet. They recommend making environmental education "an essential component of the school curricula of all countries worldwide by 2025."
Embracing these values, the teams at Karuna are actively engaged in raising the awareness of the next generation. In India and Nepal, local initiatives are implemented in schools to combat plastic pollution, preserve nature, and, most importantly, empower and inspire the citizens of tomorrow to strive for a future in harmony with all living beings.
Raising awareness among the younger generation about the importance of protecting nature and all living beings
In India and Nepal, global green days are celebrated in classrooms every year, with the aim of awakening environmental consciousness in schoolchildren. These days, such as World Environment Day or National Planting Day, are spent highlighting environmental challenges and providing concrete tools and practices to create a sustainable world.
Planting trees, helping nature bloom sustainably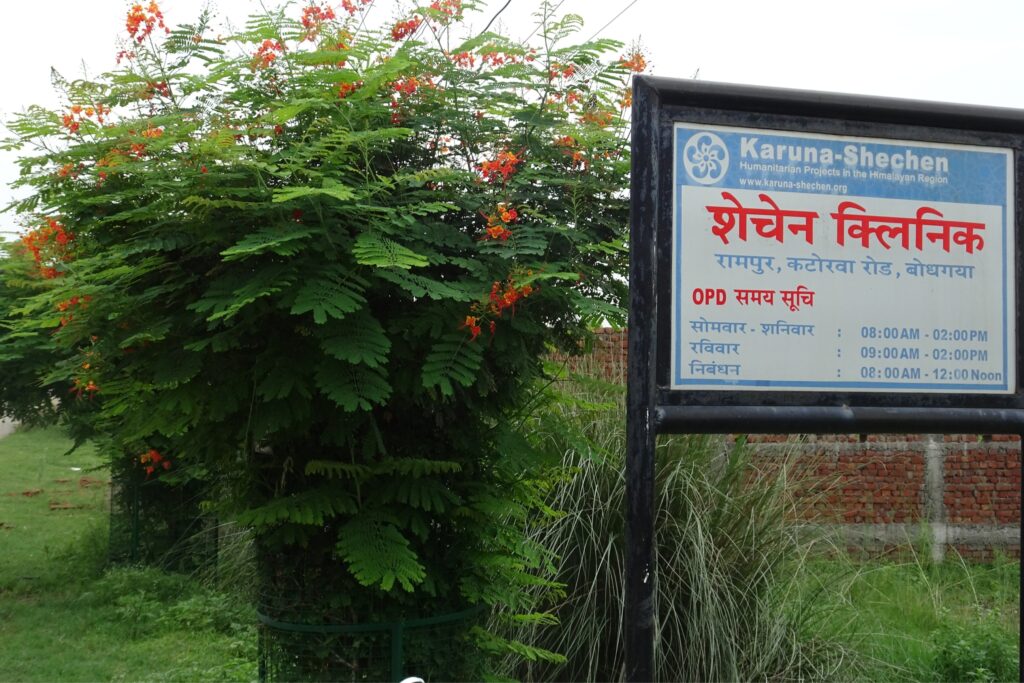 In India, the Karuna-Shechen teams benefit everyone by planting thousands of trees in villages and along city streets. These plantings are carried out hand in hand with local schools and communities. By involving local people, this initiative educates everyone about the importance of environmental protection and biodiversity.
In the Bihar state of India, in 2023, 1,734 tree saplings were distributed, and 3,135 trees were planted along roadsides.. until July.
Focus on the National Planting Day in a Sindhuli neighborhood in Nepal
On the occasion of World Planting Day, on July 3, 2023, the community planted a remarkable Nepalese tree species, Taxus Wallichiana, in the Phikkal neighborhood. This large-scale planting of 150 trees will safeguard biodiversity, promote environmental management, as well as combat soil erosion and landslides. In addition to aiding the long-term reconstitution of water resources, these trees can also be a source of income, as Taxus Wallichiana has significant medicinal properties.
Thanks to the cooperation of communities and the local administrations, these planting efforts extended to the outskirts of the neighborhood and adjacent roads. Bhola Nath Dhital, program coordinator in Sindhuli, enthusiastically shared his experience of the planting day: "The event was truly enchanting, marked by an exceptional demonstration of unity and participation from all stakeholders, including elected local representatives, teachers, students, and community members."

This single plantation is symbolic, however itmarks a significant step in environmental protection for Nepal. It also aligns with our common goal – to develop the neighborhood holistically, sustainably, and in harmony with the Earth. This was emphasized by the neighborhood president, Tek B Rajan Magar in his speech: "This extraordinary program illustrates our unwavering commitment to environmental conservation and also offers the opportunity to generate income through the sale of [the tree's] leaves and branches, due to its medicinal value. We aspire to make this neighborhood a shining model that will serve as an example to all other neighborhoods in the rural municipality."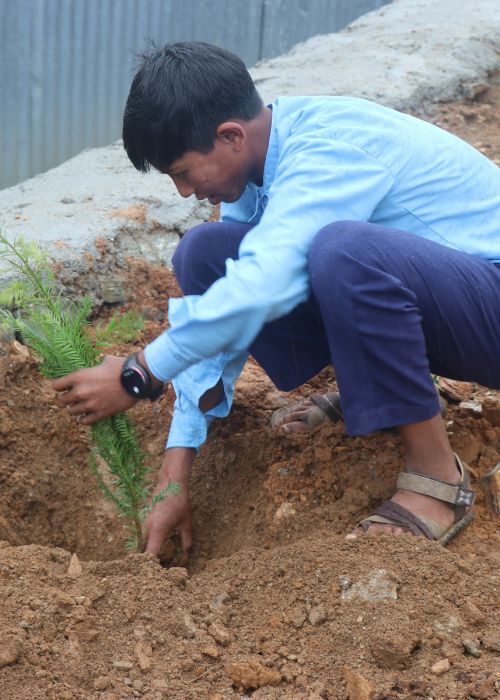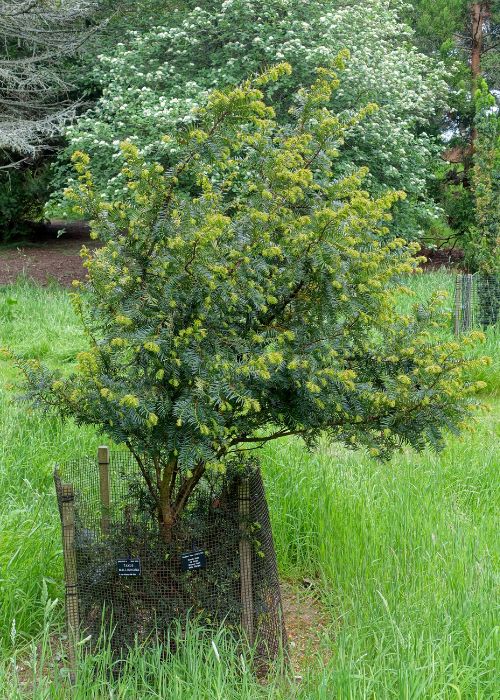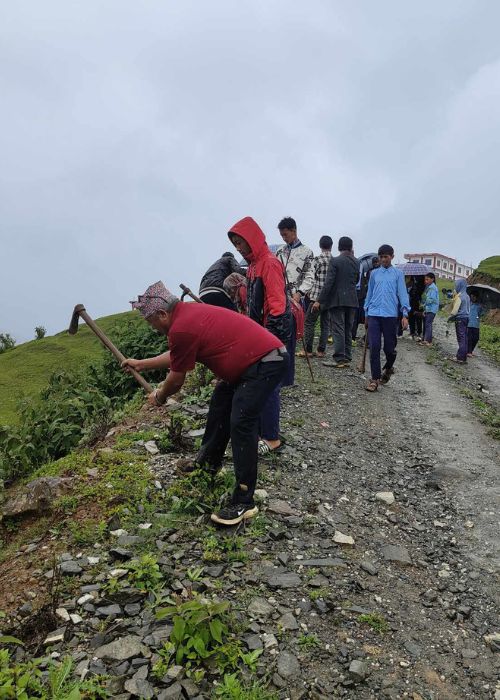 An alternative to plastic: another world is possible
Jute bags are distributed as part of the Go Green program, an environmental awareness initiative in Indian schools . Durable and ecological, these bags are provided to discourage students from using non-biodegradable plastic bags.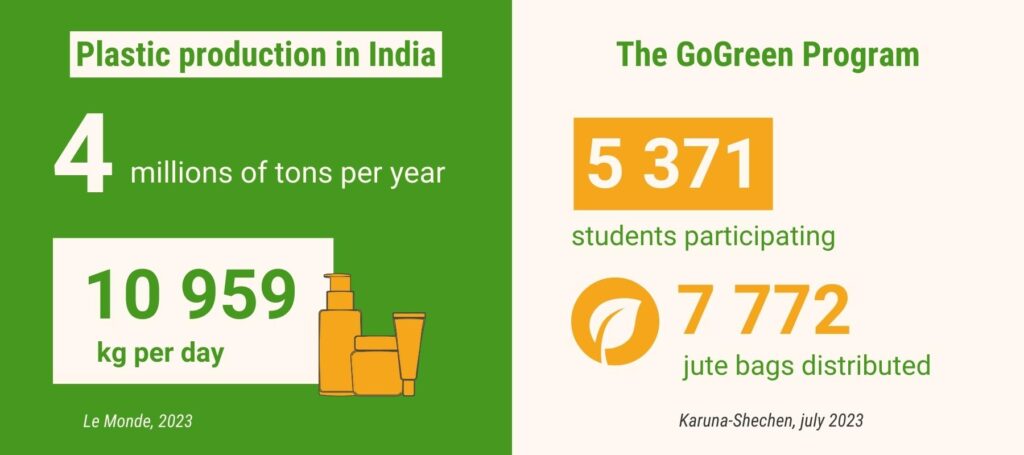 Training future advocates for biodiversity
Regardless of the methods used, the key objective remains to increase awareness and provide practical knowledge to young people through engaging activities. For this purpose, what better way than to organize events that appeal to both their critical thinking and creativity?
For World Environment Day, in Bihar and Jharkhand, "environmental awareness rallies" were organized to involve primarily children and students. The agenda included sessions on climate change awareness, banana tree planting, and jute bag distribution. Organized in 15 different villages, these rallies brought together 767 participants.
Focus on environmental advocacy days in high schools in the Ruby Valley, Nepal, on June 26 and 27, 2023
Elocution contests, advocating for all living beings in their immense diversity.
During the first day, an elocution contest was organized to ignite even more passion among the students. The exercise focused on the importance of tree planting and the critical role of environmental conservation in disaster risk management. 65 students enthusiastically participated in the activity.
"I am Florina Ghale, a 14-year-old optimistic girl, currently in the 10th grade. Besides being a dedicated student, I have the honor of being the president of our school's children's club. I am delighted to share with you my recent victory in the eloquence contest organized by our children's club, with the invaluable support of Karuna-Shechen." – Florina Ghale, student.
Essays on the profound impact of nature on our lives
Continuing this spirit of awareness, a writing competition took place the next day. After a warm welcome and an engaging reminder of the sustainable development program's significance, the thirty-five participating students were tasked with writing an essay about nature and its impact on their personal lives.
"These experiences have inspired me. As an active member of the children's club, I am determined to continue supporting children's club activities within our school's management committee." – Florina Ghale.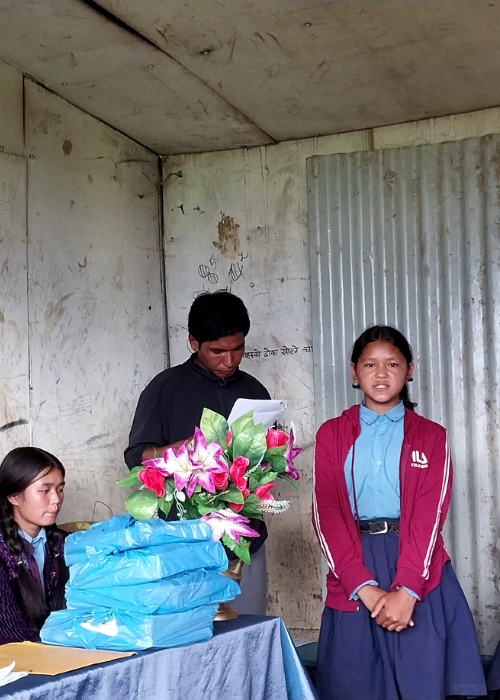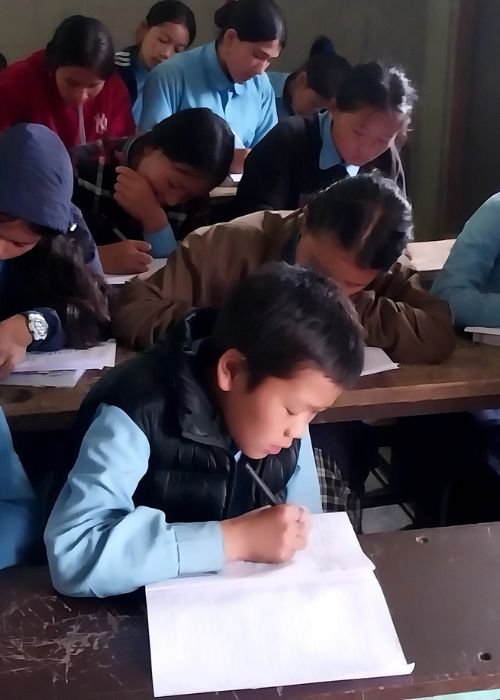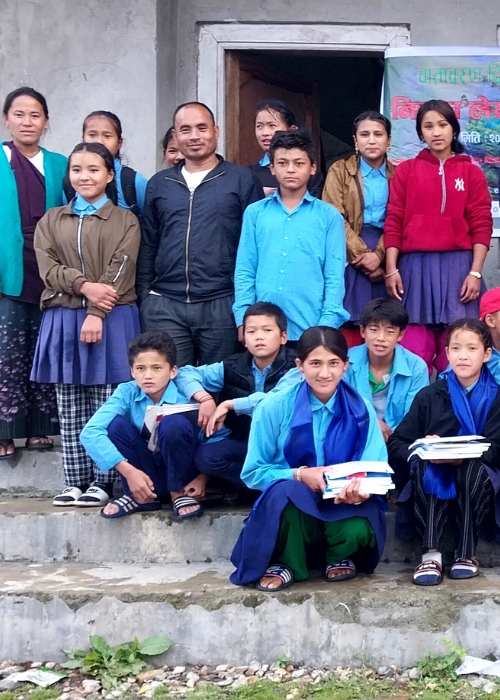 Support the environmental programs in India and Nepal
Preserving our planet: A borderless issue
In the face of this major challenge, more and more local responses are being offered: not only within our intervention areas in India and Nepal, but also in France. French NGOs like FRENE (Ecole et Nature) and France Nature Environnement (FNE) provide sustainable development training in schools and other institutions.
Environmental preservation concerns us all. While it is crucial to raise awareness among younger generations, it is equally important we all recognize our role, regardless of our age, nationality, or background. We all have the responsibility to give future generations a decent future on a habitable planet.
If we care about the fate of future generations, we will not blindly sacrifice their well-being for our fleeting interests, leaving only a polluted and impoverished planet to those who come after us.

Matthieu Ricard, A Plea for altruism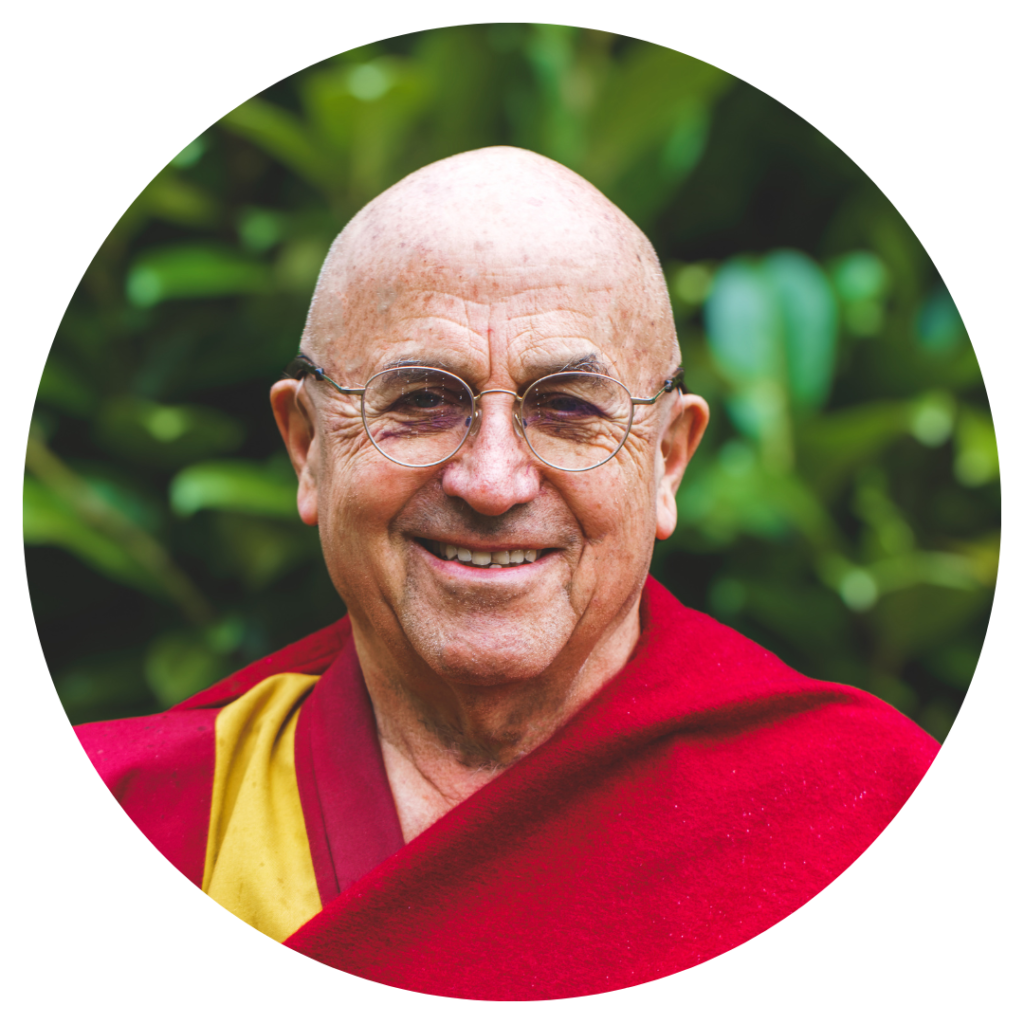 We have only one Earth; every action taken for the planet's well-being benefits everyone, no matter where we live on the globe. By shaping minds, planting seeds of environmental altruism, building connections among ourselves, and becoming aware of our shared humanity, we can truly build a sustainable and respectful world for all living beings.
Beyond this solidarity among humans, we must realize our universal interdependence is the key to a harmonious future for the Earth and all its inhabitants. It is undeniable that by understanding the interconnectedness of all the elements of nature, we are better equipped to make informed decisions which protect our ecosystems.
By nurturing the environment, we nurtured ourselves.

Bhola Nath Dhital, Project Coordinator for Karuna-Shechen in Nepal.