Education
Strengthening access to quality education for all
In some Indian and Nepalese villages, community schools are underfunded, neglected and sometimes non-existent. Public schools, even in urban areas, remain inaccessible to children from economically disadvantaged families, creating educational inequalities.
Some figures : In India, 64% of adult women are illiterate, while in Nepal the rate is 71% (2018). Early school leaving is also a concern in both countries, affecting 50% of young people in secondary education.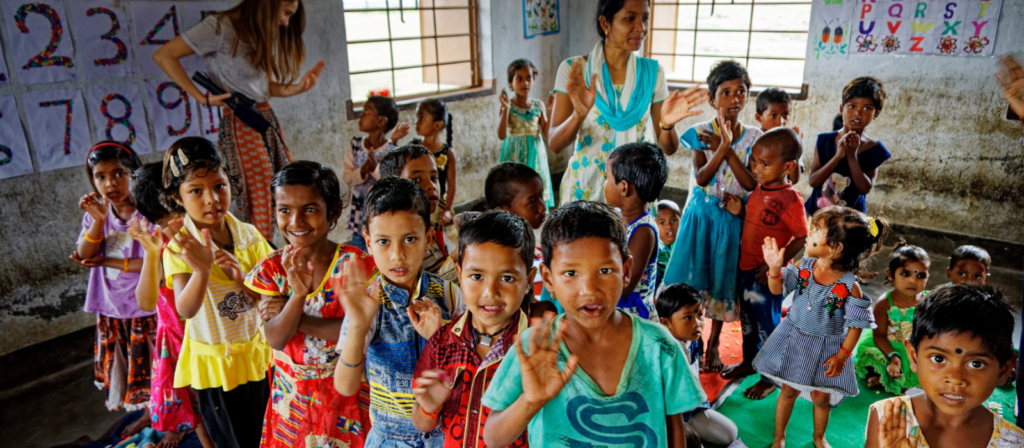 Education is not only a means of improving living conditions, it is also an opportunity for an individual's development. It is a key factor in promoting equality and autonomy. That is why at Karuna, one of our objectives is to offer everyone a chance to learn : children, young people and adults.
Our early childhood programme brings joy, encourages cooperation and promotes the healthy development of children. In the primary schools, we encourage young people to become more generous and responsible. Basic education for illiterate adults is ongoing at all our sites.
Our impact in 2022

1,525 children supported in their schooling

5,450 children in kindergarten

One of our programmes in Nepal
Informal education – "For a Better Life" program
In Nepal, adolescents in rural areas can face social pressure, a lack of job opportunities and a lack of self-confidence.
The Better Life Program empowers adolescents by providing them with a healthy school environment that fulfills their need to develop a better sense of self-worth and make skillful life choices.
These in-school guidance programmes provide teens with an understanding of the different career paths available after their schooling is finished. With healthy self-confidence, the teenagers can better identify the careers they would like to pursue according to their skills and aspirations. Pupils are encouraged to discuss the social and cultural problems they may encounter at school (bullying, depression, cyberaddiction, alcohol and tobacco consumption, early pregnancies, etc.) with the aim of changing behavior, and promoting a less stressful and more caring school environment.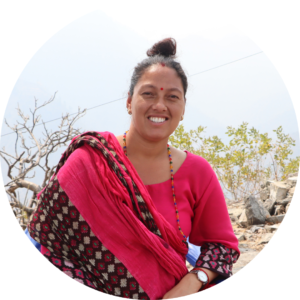 I'm very satisfied with our early childhood development classes. Thanks to Karuna Shechen's intervention, we have gained valuable knowledge about effective teaching methods. The training given to our teacher was invaluable, as it enabled us to acquire various tips and techniques for interactive teaching and learning. The children now enjoy coming to school, and we've also seen improvements in their lifestyles outside the school sphere, at home.

Sangita Poudel, school director in Bhanjyang – Nepal
In 2022, 213 teenagers were able to improve their academic skills.
I support the education of young Nepalese people
One of our programs in India
Informal Education – Adult Literacy Program
In India, the states of Bihar and Jharkhand have the lowest female literacy rates in the country, which is a major barrier to women's empowerment.
This program trains illiterate rural women in writing, reading and arithmetic. The small groups of about ten women follow regular courses which offer a variety in both content and difficulty, thus ensuring a constant progression of their skills.
At the end of the program, all participants report increased confidence as they master writing and reading. These new skills also enable them to be more involved in their children's education and increase their chances of empowerment.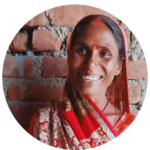 I never went to school as a child. But now, as an adult, I realize the importance of education in everyday life. That's why I make a point of going to class every day. The knowledge I acquire helps me to guide my children in their homework.

Sunita Devi, beneficiary in Jharkhand – India
In 2022, 534 women have learned to read, write and count.
I support women's literacy
Our method of intervention
Our programs incorporate respect for and preservation of local culture and languages. Our approach emphasizes the creation of supportive learning environments, and encourages the involvement of parents and the community to ensure the continuity of projects. We pay particular attention to the needs of girls and the gender balance in each class.
To learn more about our education programs