Despite the 5,528 kilometers that separate Boston from Paris, the caring and friendly personality of Wendy shines through the screen. Wendy Wornham, an American pediatrician, joined Karuna-Shechen in 2020. She served as a volunteer consultant before helping us translate our articles into English.

Dozens of people volunteer their time and experience to support Karuna's work in India, Nepal, and France. In this portrait, we highlight her invaluable dedication and support.
No act of kindness is ever too small.

Wnedy Wornham
Wendy's early humanitarian experience in international health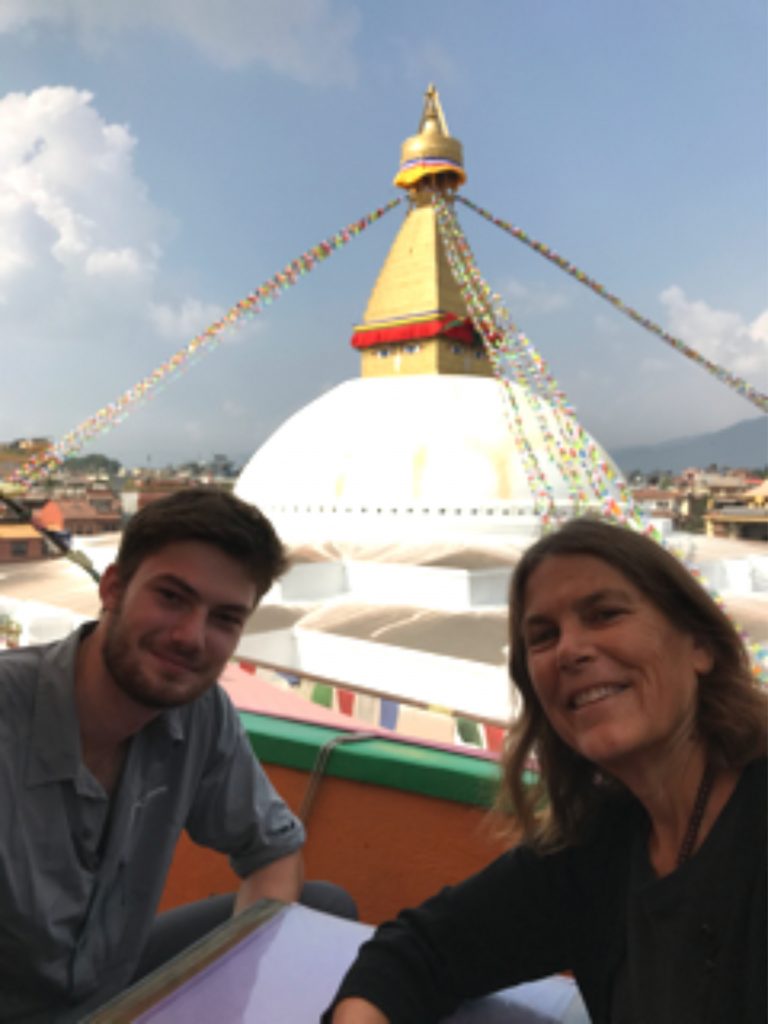 The 68-year-old pediatrician, who resides near Boston, Massachusetts works in a community pediatric office and teaches medical students at Harvard Medical School. She has been involved with International Health projects for over forty years. Recently, Wendy has cut back on her clinical work in order to write, become more involved in local environmental preservation projects, spend more time with her family, and volunteer with Karuna.
Her humanitarian commitment began in 1979 when she went to Nepal for ten months to work on a public health project and then to Thailand to volunteer in a refugee camp for Cambodians. During that year, this young medical student learned to work with limited resources and saw how the political wishes of a minority of leaders can have disastrous consequences on the lives of thousands of people. This experience, both hard and formative, reinforced her desire to be useful and to do meaningful work. In the nineteen eighties, Wendy returned twice to Nepal, once to research the Ayurvedic treatment for hepatitis and then as a consultant with the World Health Organization.
This experience stuck with me. It gave me a sense of purpose that I continue to put in my daily work in the community health center.

Wendy Wornham
Buddhism, Matthieu Ricard, and Karuna-Shechen
Wendy's interest in the Himalayan region and Buddhism began as a twelve-year-old when she read the novel Lost Horizon by James Hilton in which an airplane carrying English passengers crashed in the Himalayas and they discovered a magnificent Buddhist culture. From the age of twenty, Wendy considered herself a Buddhist and followed the teachings of Dilgo Khyentse Rinpoche. She met Matthieu Ricard for the first time in Kathmandu in 1981, when he served as Dilgo Khyentse Rinpoche's attendant and translator. Their paths would cross again several times: in Dordogne three years later, in Nepal two years after that, and in 2018, during a conference of the Mind and Life Institute in Arizona, in which Matthieu participated. This is when she discovered the existence of Karuna-Shechen. The founding principle of altruism in action immediately resonated with her. Wendy then began to learn about the activities of the association, whose community-driven development and local approaches she particularly appreciated.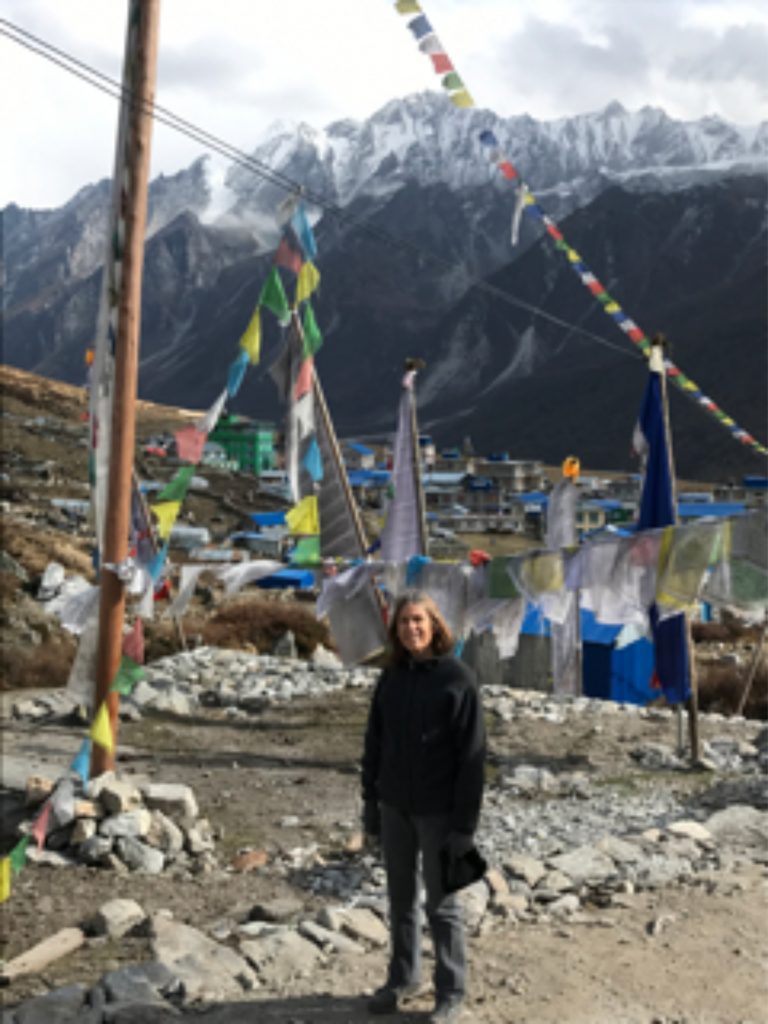 In 2020, this dedicated woman had the opportunity to use her skills to help Karuna's beneficiaries. In the midst of the pandemic, Wendy volunteered remotely as a medical consultant. Her knowledge of medicine and international aid was invaluable in setting up mobile dental clinics in India. A few months later, Wendy agreed to join the volunteer translation team to proofread English articles, annual reports, internal documentation, and other written material. For almost two years now, Wendy has been part of the team of writers who help to spread the testimonies of local communities and the vision of Karuna-Shechen to as many people as possible. Finally, Wendy will be joining the US Karuna-Shechen Board in 2023.
The more people know about what Karuna-Shechen does and the benefits of altruism, the better. If I can help spread that message by making it accessible to the English-speaking public it will be useful.

Wendy Wornham
Her role within Karuna allows Wendy to keep up-to-date with projects in the field. It is also a way to strengthen her bonds with the members of the association and the beneficiaries. Above all, it is the vision of Karuna-Shechen that drives her to do something useful. According to her, if each person started to cultivate their altruistic potential, the world would be better off. Karuna-Shechen is therefore a source of inspiration and optimism for this woman who sees mutual aid and bringing communities together as a key to a better world.
Discover the different ways to
get involved with Karuna-Shechen
Care, Share, and Be Aware
After years of medical work in Asia and the United States, Wendy y encourages everyone to participate at their own level and within their own means. This starts with being aware of what is happening in the world and learning about the opportunities and needs that exist. Then, on an individual level, each person can contribute his or her skills, according to their capabilities. Ultimately, on a global scale, getting involved means developing a global perspective and proposing ways to improve existing solidarity projects.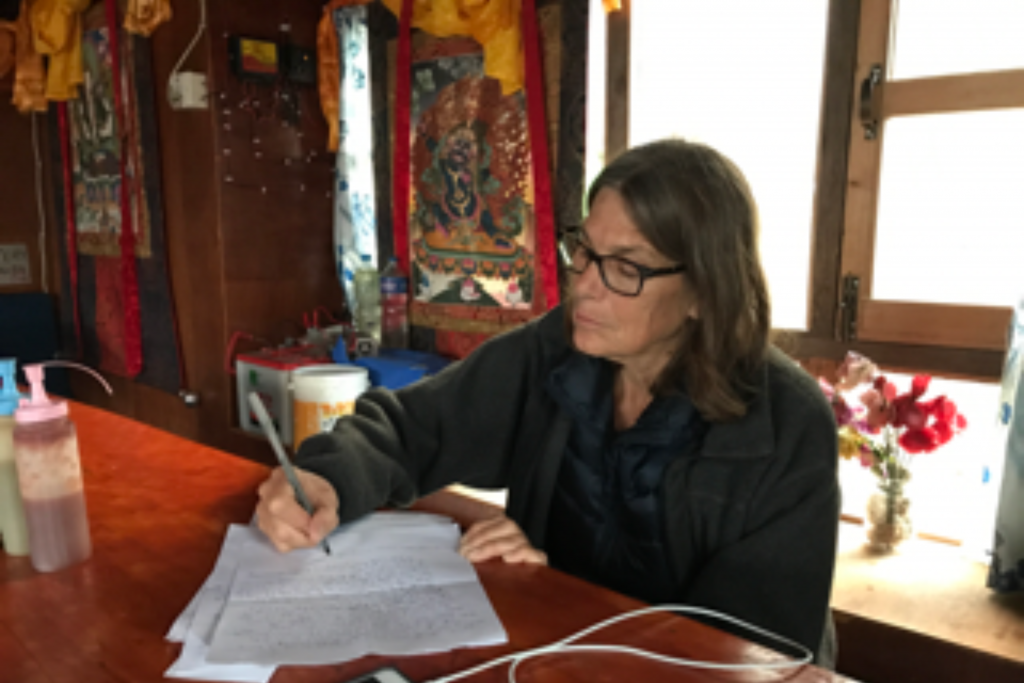 For her part, Wendy works to renew positive and generous intentions every day and to do good around her. In this connected world of interdependent beings, the slogan she came up with for the association she was part of years ago still resonates with her: Care, Share, Be Aware. To care for those around us, alleviate their suffering, and believe that no act of kindness is insignificant, to Share the resources we have, whether they are material, financial, or even emotional, to Be Aware of the living beings around us, their actions and their lives, their well-being and their struggles, their needs and how we can help them. This is what allows us to find and create solutions for improvement.
---
Today, Karuna-Shechen is delighted to count 65 passionate volunteers who are sincerely convinced of the positive role that altruism can play in creating a more just world. The involvement of these men and women, all over the world, allows the association to spread its mission and work to break the cycle of extreme poverty. Karuna is infinitely grateful for their help.
From the bottom of our hearts
THANK YOU