At 2:00 p.m. in Parandha township, Gaya district, Sushila Devi is heading to the informal education center, where she has been attending literacy classes for a few months. In these classes, she learns to read, write, and count. She has additional classes in geography, personal hygiene, civics, and vocational skills that will allow her to earn an income. Classes are held from two to four pm, when women from the villages are most available, after a morning of taking care of their children and their domestic chores.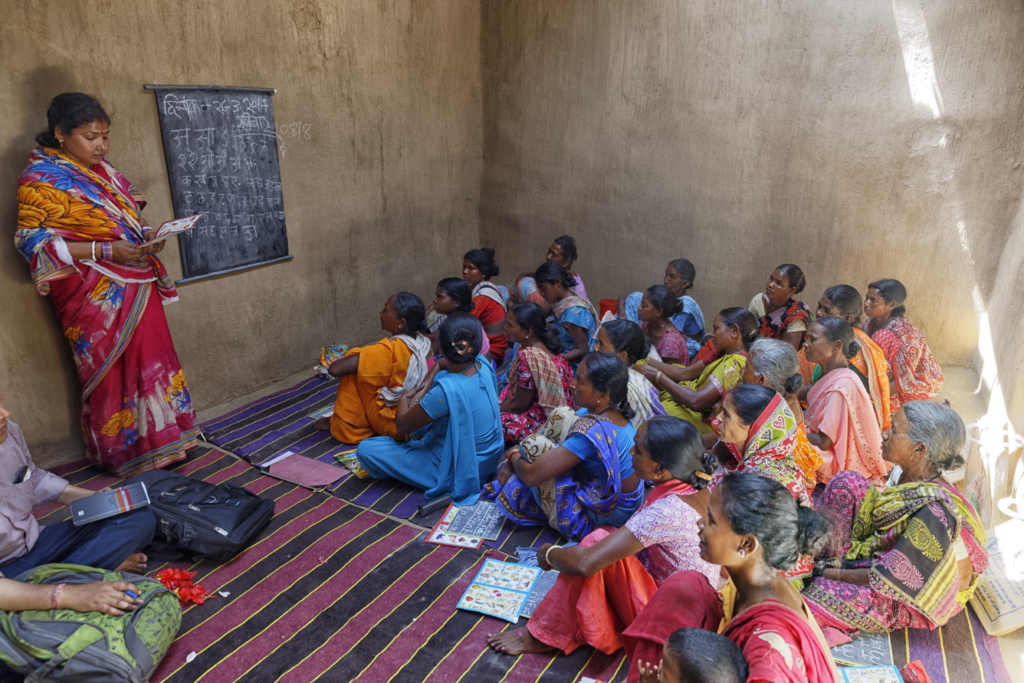 Sushila is 26 years old and is among the 300 illiterate women who are taking part in adult education classes at one of the 25 Karuna-Shechen centers in India. Like many women they never attended school, or had to leave school at a young age. This greatly handicaps them in their daily lives, whether it is reading road signs, doing their accounts, or helping children with their homework. Women's illiteracy also creates a power imbalance in household decision-making. In addition, because their economic opportunities are few, their income – if they have any – is lower, and the imbalance within the couple is even more pronounced.
One of the objectives of the program is to fight against the feminization of poverty. According to the UN, most of the world's poor (earning less than a dollar a day) are women. They are more affected by school dropout and therefore by illiteracy. They also lack access to social resources such as inheritance, credit or loans.They earn, on average, little more than 50% of what men earn worldwide, and do not have access to the systems or opportunities that would allow them to escape poverty. Their care work, the hard work they do daily to keep their families functioning, is usually unrecognized and unpaid. The lack of schooling deprives girls of economic autonomy and curtails their active participation in socio-cultural life. They have minimal autonomy within their families, and are unable to support their children in their own studies, which perpetuates the cycle of academic difficulties and illiteracy.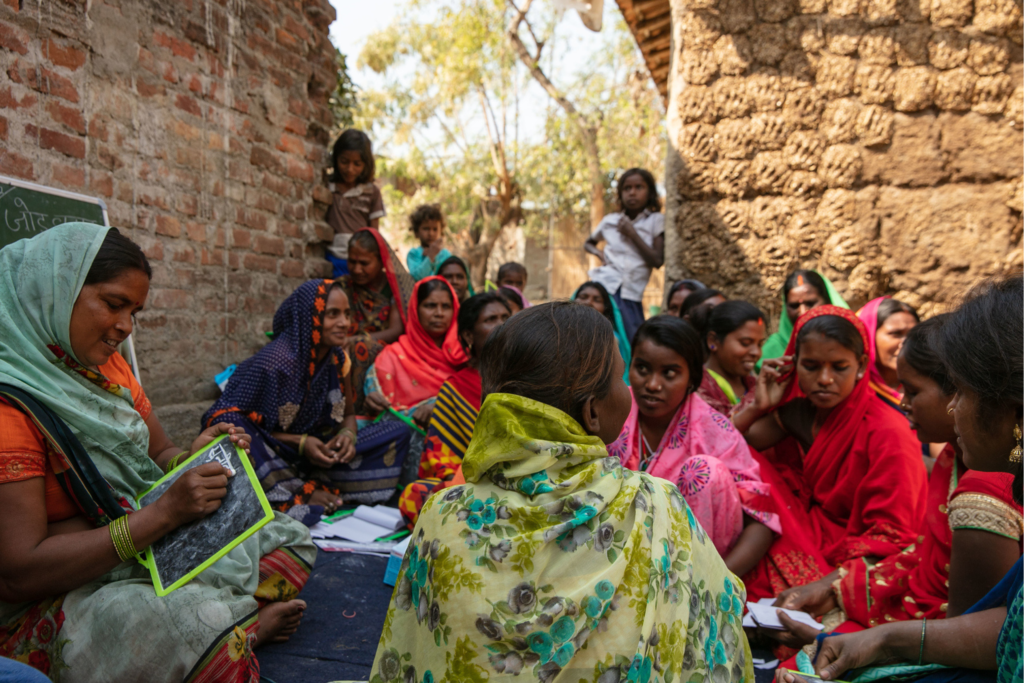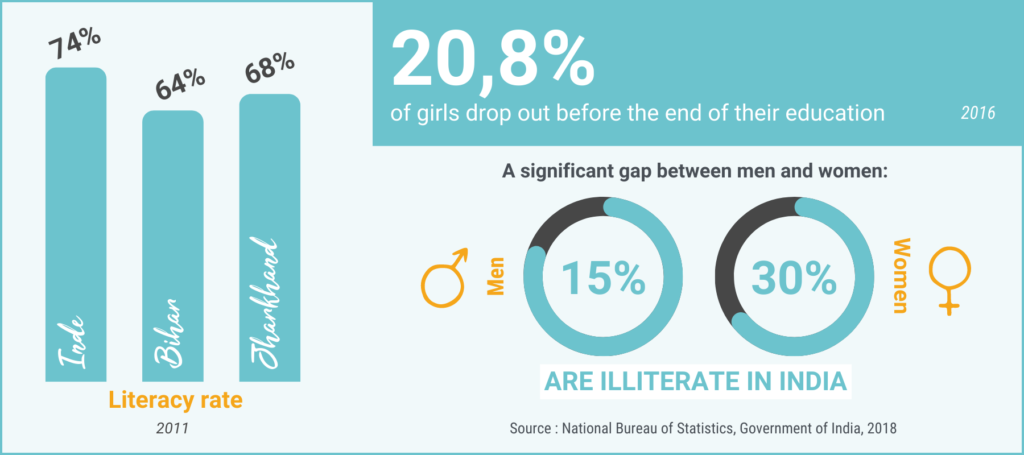 Despite these systemic difficulties, the literacy rate has increased from 12% in 2001 to 74% in 2011. While much  progress is still to be made, we can be pleased with the results obtained following national efforts.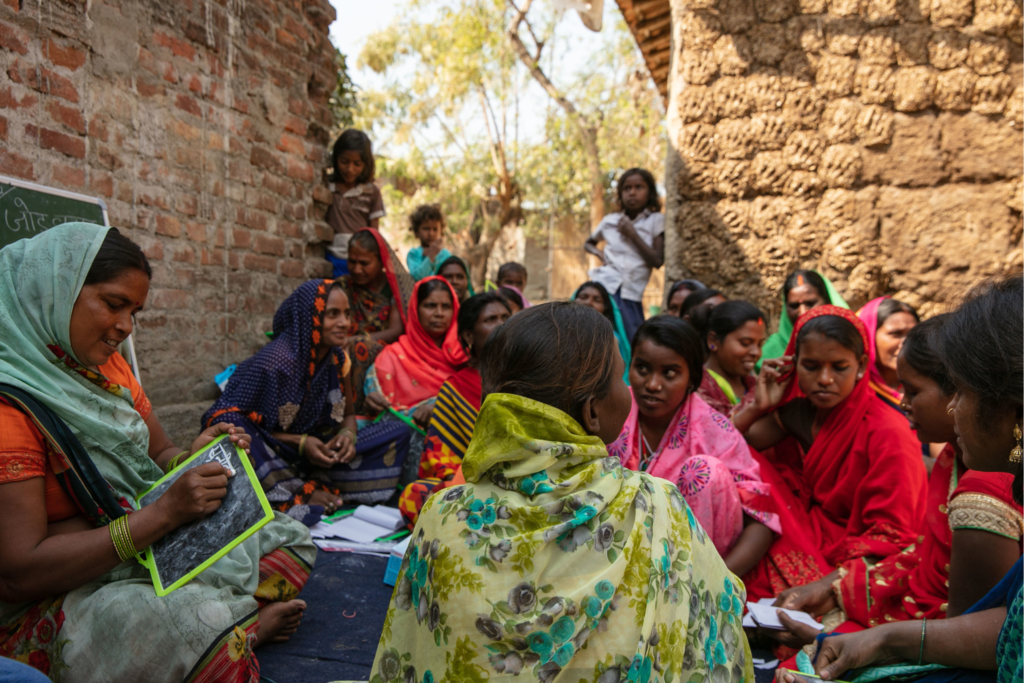 I really want to be able to read and write. My husband and I are laborers, but these skills would enable me to improve our living conditions. I go to the center every day to attend classes, even though I am busy with my job, my three daughters, and I am pregnant with a fourth child. I see that I am learning and progressing, and I can now read and write a little in Hindi.

Reshmi Devi, Dhobi Block, 32
At another center, in Phulwariya village in Gurwa, 27-year-old Rinki Devi also sees her progress: she knows the entire Hindi alphabet, can write her name, and do basic math. She says, "I never went to school and now I work in the fields. My husband also works, he is on the construction site in the next town, but we are still poor and every day we have difficulties to feed our family, especially our two children. I go to the center every day because I want to be able to help my children with their learning."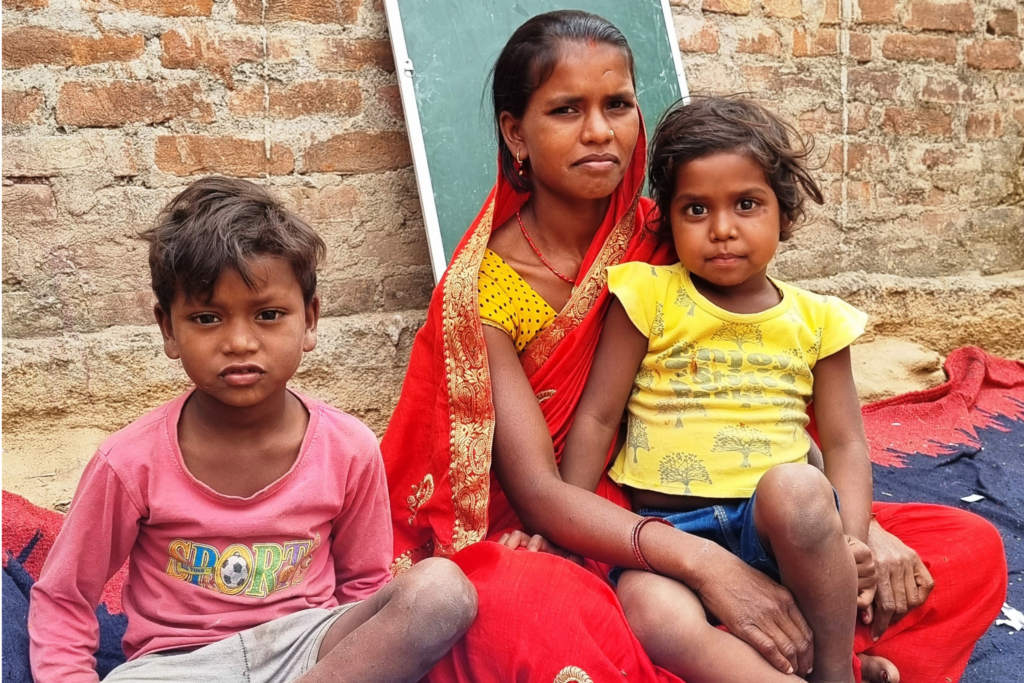 Susila, like Rinki, has never been to school, but has always been interested in learning. She recounts how she came to the center, and the difficulties she encountered: "When I heard about the non-formal education center in our village, I was excited and wanted to enroll in the classes, but my in-laws objected. I asked Aarti, the NFE teacher, for help in convincing them and they finally allowed me to attend the classes. For the past few months, I have been attending classes regularly. I can now write my name and my family members can also read my name if it is written somewhere. In addition, I can read basic Hindi words, solve addition, subtraction and multiplication in math.
I try my best to teach my children what I have learned in NFE classes. I feel happy and lucky to learn all these things without spending a single penny or leaving our village. My in-laws are also happy to see me teaching the children at home. They now support my decision."
Aarti Kumari, Susila's teacher, attests to the young woman's progress. She arrives on time, studies hard and helps the other women with their studies. Susila comes nearly every day and is one of the best students among the twenty women studying at the center.
Aarti has been the teacher at this center for six months. After she attended Karuna's computer classes in Bodhgaya and discovered her passion for women's education, Karuna-Shechen asked her to participate in the NFE teacher selection process.
Her passion is evident in her teaching: "I use songs and games to make the classes more interactive and interesting for the women. I am currently pursuing my Bachelor of Arts degree and I aspire to work for the Bihar Police Force. I love teaching and I am happy to see that many women from our village come to learn. I lost my father to tuberculosis and since then, my mother and I have been supporting our family and taking care of the educational expenses of all the children in the family. My mother works as a sweeper for the municipality."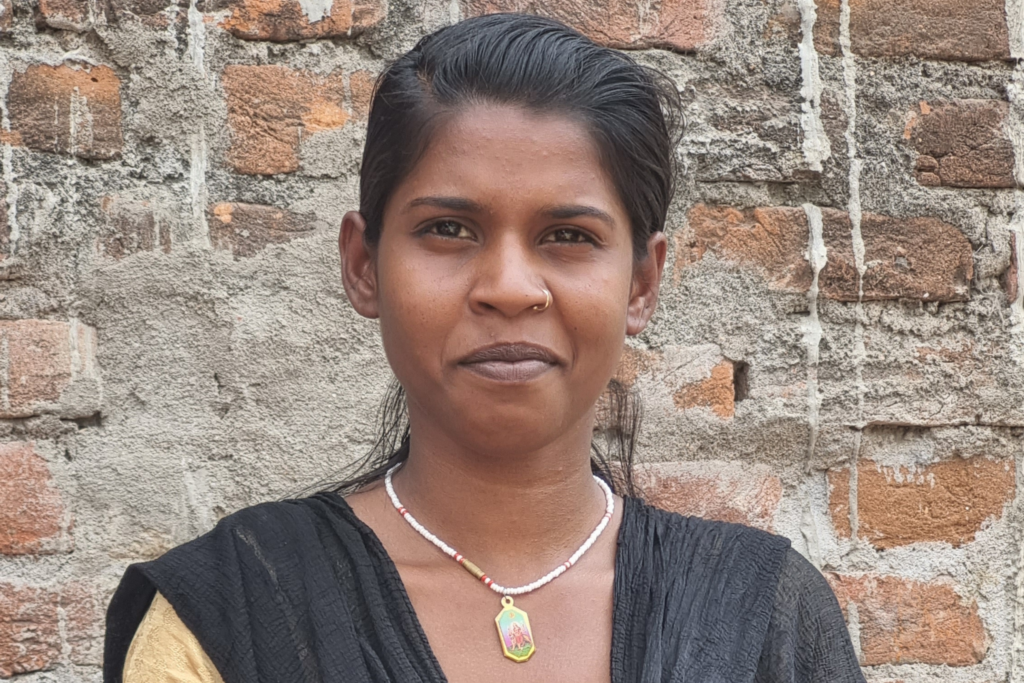 An exam is held at the education center to assess the progress of the students, and the results attest to the quality of the education, and the commitment of the women, with a passing percentage of over 60% in six months.
The determination of the students combined with the enthusiasm of the teacher encourage the women to implement their decisions and gain autonomy. The literacy classes are an occasion for fellowship and joy.
Support women's literacy in India