Since May 2022, Dr. Tsheten Chokki Bhutia has been in charge of health programs in Jharkhand, India, for Karuna-Shechen. Hailing from Tashiding, a small hill town, she is a trained dental surgeon. Within Karuna, her responsibilities include ensuring that the organization progresses towards its goals while keeping altruism at the heart of its actions and ensuring the smooth functioning of project activities. She is actively involved in conducting health awareness sessions for the communities served and in training teams.
A Meaningful Profession
She shares her search for meaning: Ever since I can remember, I wanted to do something valuable with my life. I always thought that I had a bigger purpose to fulfil and had a deep inclination towards serving those who were marginalized and vulnerable.
With the support of my family I did my graduation in Dental Surgery from Himachal Dental College. Thereafter, I worked as a voluntary dental surgeon in the Primary Healthcare Centre in the rural areas of South and West Sikkim. During that period I had the opportunity to visit the most remote villages for a government program i.e. Rashtriya Bal Swasthya Karyakram(RBSK), a health program focused especially on school children. It was then that I saw the dire need of quality primary healthcare services and the complexities of achieving it on a large scale. Health is not "one size fits all"; therefore it is essential to cater to the health needs of the population based on their overall socio-economic status, geographical terrain and cultural contexts."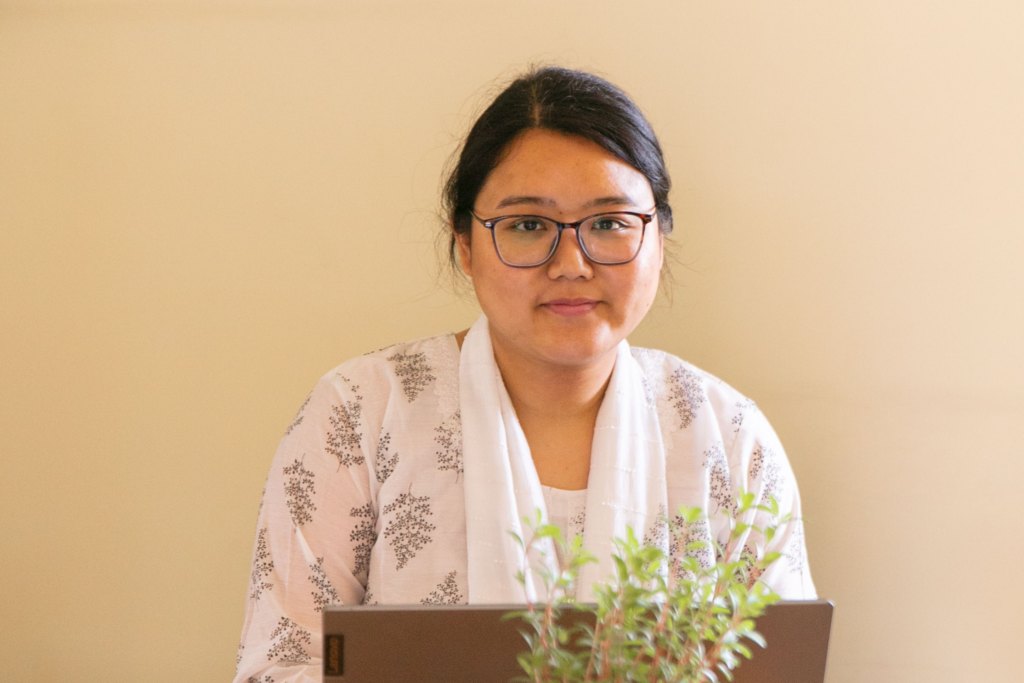 Health is a paramount issue, and Tsheten Chokki Bhutia takes it to heart: "I had volunteered as a dental surgeon for the Government of Sikkim under the Ministry of Health & Family Welfare wherein I worked in Rabong PHC and Tashiding PHC. This provided me with a lot of experiences and the insight of the socio-economic conditions of people living in the rural communities. I felt very limited in terms of the help I was able to provide given the complex nature of issues, which eventually lead me to do my Masters in Public Health.
Health is one of the major pillars for overall development of a community and the country
Poor health means increased out of pocket expenditure and lack of economic opportunities which then gives way to poverty. It is indeed a vicious cycle that we need to break therefore heath programs are extremely important."
When she discovered Karuna, Tsheten Chokki Bhutia felt a strong connection on several aspects, which motivated her desire to join the organization: "Altruism has always been a key part of my life and education. Also, the fact that Karuna took a holistic approach to tackling the challenges of today's world for the poor and vulnerable, developed a keen interest in me."
A Committed Profession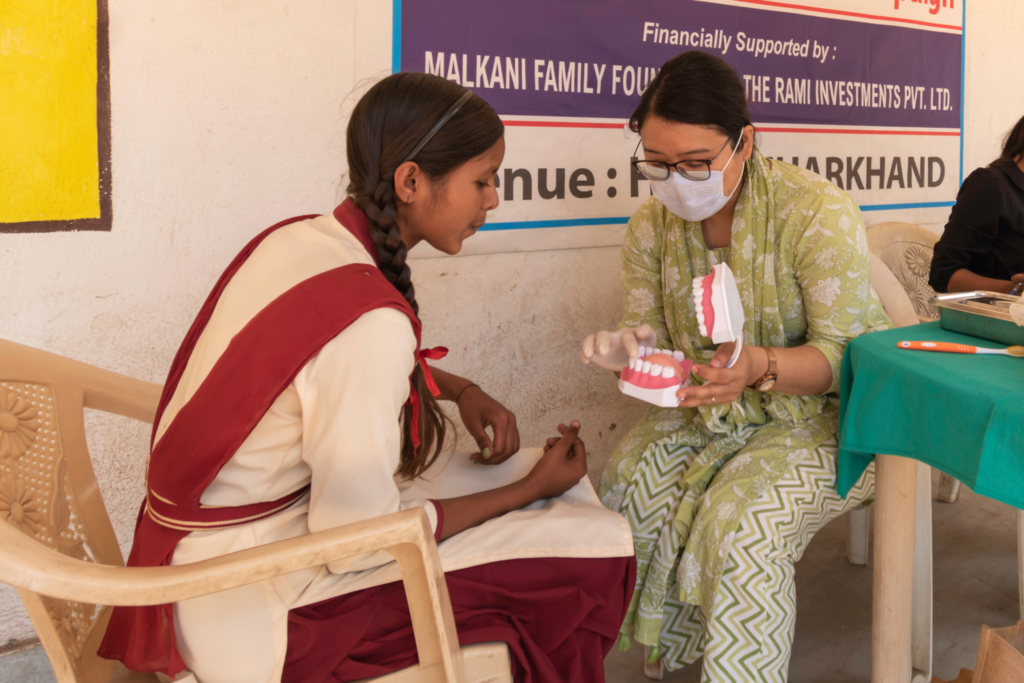 Within Karuna, Tsheten Chokki Bhutia plays a crucial role: she coordinates all health programs. She explains her relationship to the projects:
"I am invested in all the programs we currently conduct under the thematic area of Health & Hygiene, however, one program that I especially hold close to my heart is the Menstrual Health & Hygiene awareness program. It is surprising to see that even now women and girls face challenges associated with menstruation.
There is still a lot of taboo and stigma surrounding it, which in turn affects the education of a girl child and can even be life threatening in some cases due to lack of awareness and accessibility to proper menstrual hygiene practices. It is necessary to break these social barriers to ensure that they are empowered and can live a healthy life.
I think one of the challenges which in fact is very common in the sector that we work in, is bringing about a behavioral change within the communities.
For example in terms of open defecation there is a whole set of complexities such as socio-economic and cultural context, that prevents the behavioral change from occurring, thereby predisposing them to poor health and hygiene. However, I believe that with time and consistent efforts we can surely bring about a gradual change. Another challenge for me has been adapting to the weather, especially in the peak summers during which I try to adapt myself the best I can."
A Linking Profession in an Organization Promoting Altruism and Mindfulness
In her work, the doctor is motivated by the caring relationship that forms with patients, colleagues, and communities in general: "I have had the opportunity to meet people form a wide spectrum of backgrounds ever since I joined the Karuna family. Right from the communities we serve, the teams I worked with both internal and external through collaborative efforts and experts from different fields; all have had a huge impact on my growth and given me the opportunity to learn from all of them. I am an avid believer of the fact that learning never stops and this had lead me to take advantage of the various encounters that I have had till now. Many times it has helped me break out of my shell and I am deeply grateful for it."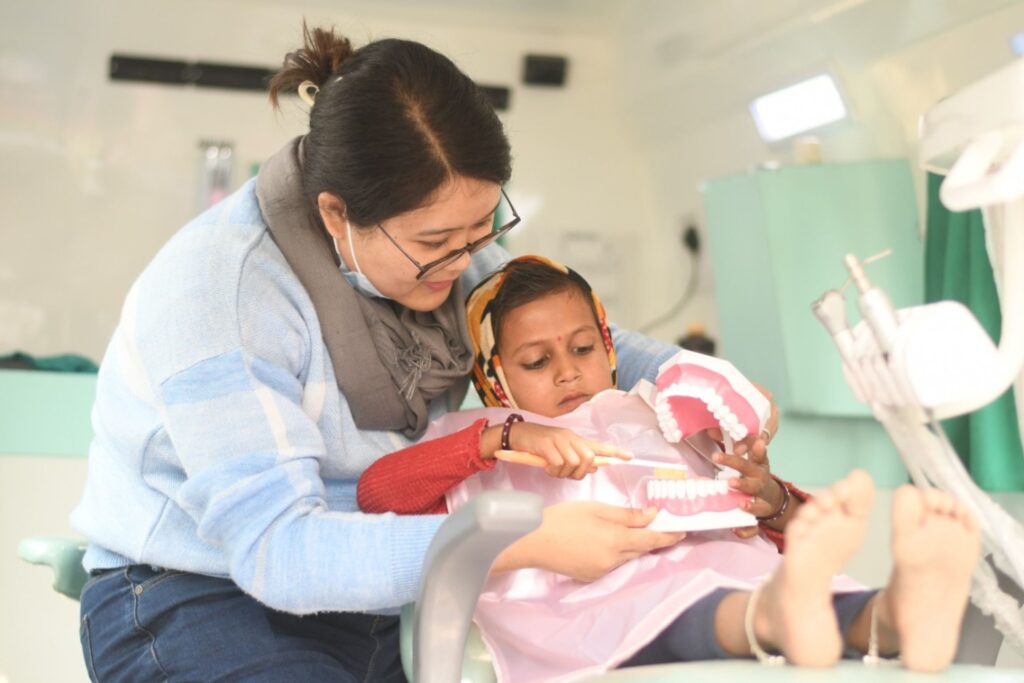 The doctor cultivates mindfulness herself, both at work and in her personal life. It is part of Karuna's culture, and she embodies it naturally:
I think mindfulness is the key to living a happy life. I practice mindfulness through journaling and meditating in the morning and sometimes even at night. I have started to incorporate a new practice of mindfulness wherein I try to bring my attention to my breath throughout the day and remind myself of how grateful I am to be alive at that moment. It helps to ground myself throughout the day and helps me to de-stress making me realize that it is completely up to us what we make out a situation to be, whether good or bad.
These practices not only make me feel light but also enhance my efficiency and my relationship with the team and my colleagues.
She concludes: Karuna-Shechen has helped me grow not only professionally but even as a person. I am much more confident in my skills now than I was before. Karuna provided me a safe environment where I could learn without any hold back while making an impact in the lives of the people we work with. I made a lot of new friends and build new connections here which I will forever cherish and I am grateful for it. One of my favorite aspects of my job is the connection with communities and the impact our efforts can have on their lives. It's rewarding to know that everything I do has value.
Support Health Programs in India