Listening to music allows us to take some steps on our inner paths, which makes us better human beings (…) Isn't this a beautiful alliance with music? To be a complete human being, to be at the service of others.

Matthieu Ricard
This fusion concert combines music and meditation. J.S. Bach's Preludes and Fugues and Schubert's Impromptus, are interspersed with reflections and meditations on mindfulness and altruistic love.
Matthieu Ricard and the famous pianist Maria João Pires offer a meditative journey through the pieces. This concert offers a unique, intimate and intense musical experience in the present moment, which enhances compassion and celebrates the connection between self and others.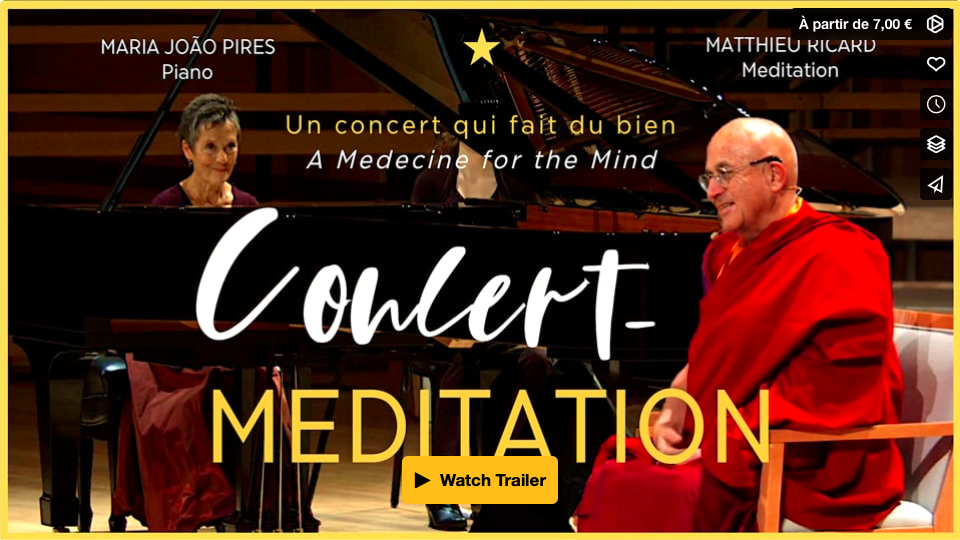 The entire Concert-Meditation film is available on the Vimeo platform. All profits from the concerts and part of the sales of the film Concert-Meditation are donated to the NGO Karuna-Shechen, co-founded by Matthieu Ricard.
Concert-Meditation was recorded during the performance organized by Karuna-Canada at the Maison symphonique de Montréal (Canada) on 13 April 2019. Previously, it was presented at the Théâtre antique d'Arles as part of the 2018 edition of the Festival International de Piano de La Roque d'Anthéron (France), in the Salle de l'Institut in Orléans (France), and at BOZAR, the Palais des Beaux-Arts Brussels (Belgium) as part of f the Mind & Life Institute meetings in the presence of the Dalai Lama.
"A luminous exchange around empathy, love, giving, mutual aid and sharing." (Le Temps)