This year, all the donations collected by Action For Karuna finance our food security program in India which supports more than 53,000 families: organic vegetable gardens, fruit trees, drip irrigation, rainwater harvesting…
What are the objectives? To fight against malnutrition by meeting essential nutritional needs, while respecting the environment, promoting organic agriculture and efficient water management.
The challenges of good nutrition in India
The scourge of malnutrition
Malnutrition is the greatest threat to children under the age of five in India. Food systems have neglected children in need, especially in the northern states of Bihar and Jharkhand where we work. The lack of dietary diversity and balanced nutrient intake has serious consequences: stunted growth, low immunity, morbidity and various deficiencies. Malnutrition not only threatens a child's survival, but also severely hinders his or her physical growth and cognitive development, affecting every stage of life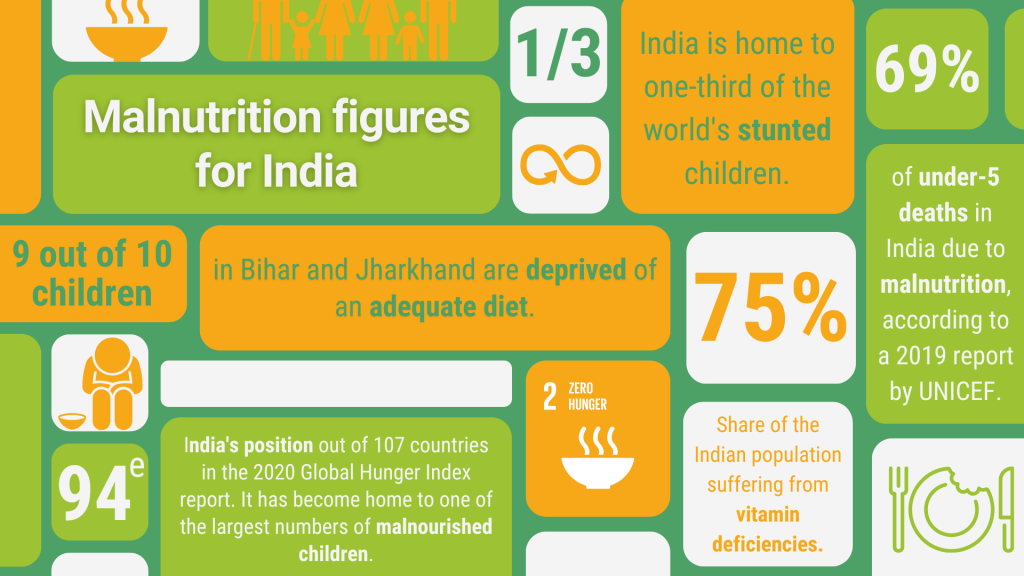 The health of the young child is closely linked to that of the mother. In India, the number of women suffering from malnutrition and anemia has been increasing since the late 1990s. Still too many women die in childbirth and many suffer from long-term illnesses following childbirth. One third of pregnant women suffer from malnutrition and half from anemia, which means that many women are physiologically unprepared for childbirth.
The National Family Health Survey reflects the abysmally low nutritional status in the states of Bihar and Jharkhand. Malnutrition in childhood can have long lasting consequences that continue into adolescence and adulthood. The severe lack of nutrition is also the cause of high mortality and morbidity in these two states , which Karuna-Shechen is working to ameliorate.
The water crisis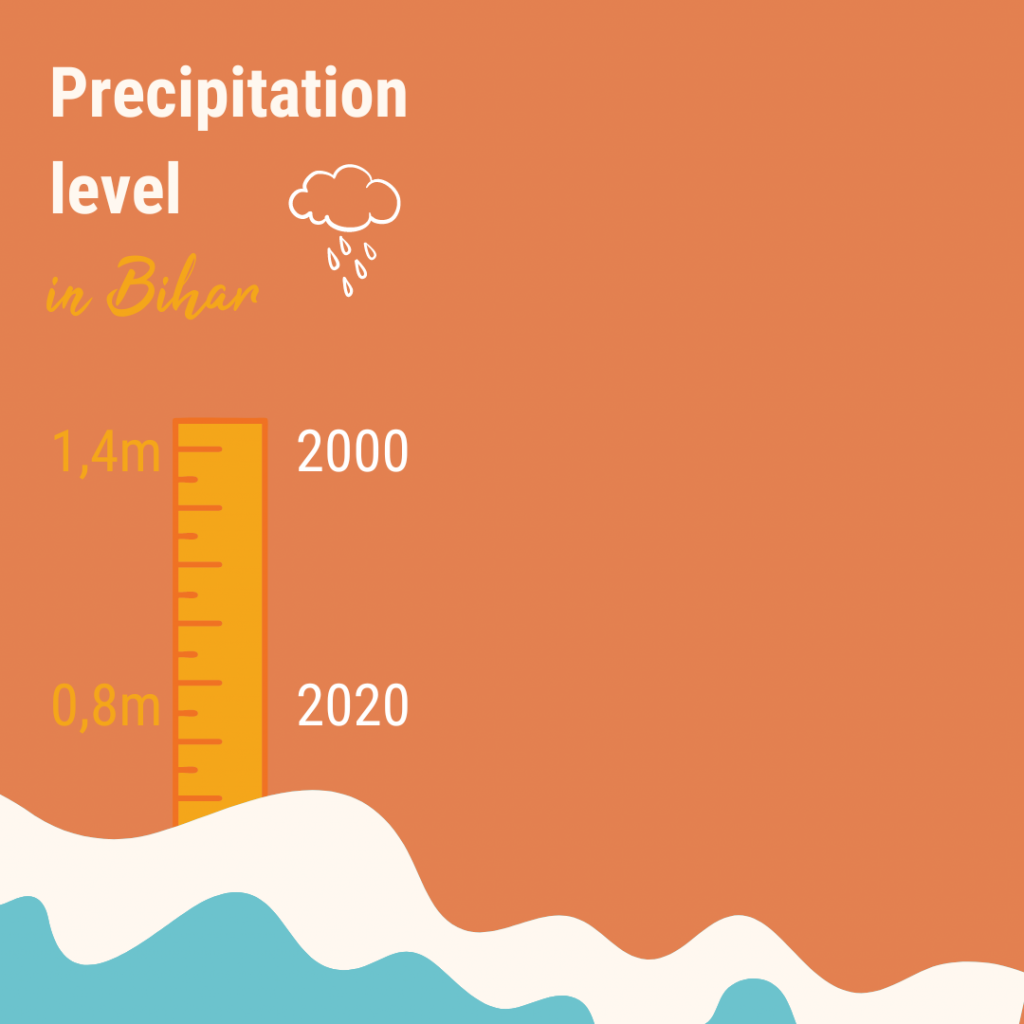 Since the early 2000s, the state of Bihar has been experiencing a major water crisis.The main reasons for this situation are lack of rainfall, a damaged infrastructure system, excessive crop-irrigation, and a lack of public programs. In Jharkhand, due to the geographical configuration, about one-third of the surface water and groundwater flows out of the state, which is responsible for 38% of the region's drought.
As a result, in both states, at the height of the dry season (November through February), wells and water supplies dry up, particularly due to climate change. Artificial recharge to meet urban demand has become a common practice, but one that is costly and not sustainable.
Karuna's responses on the ground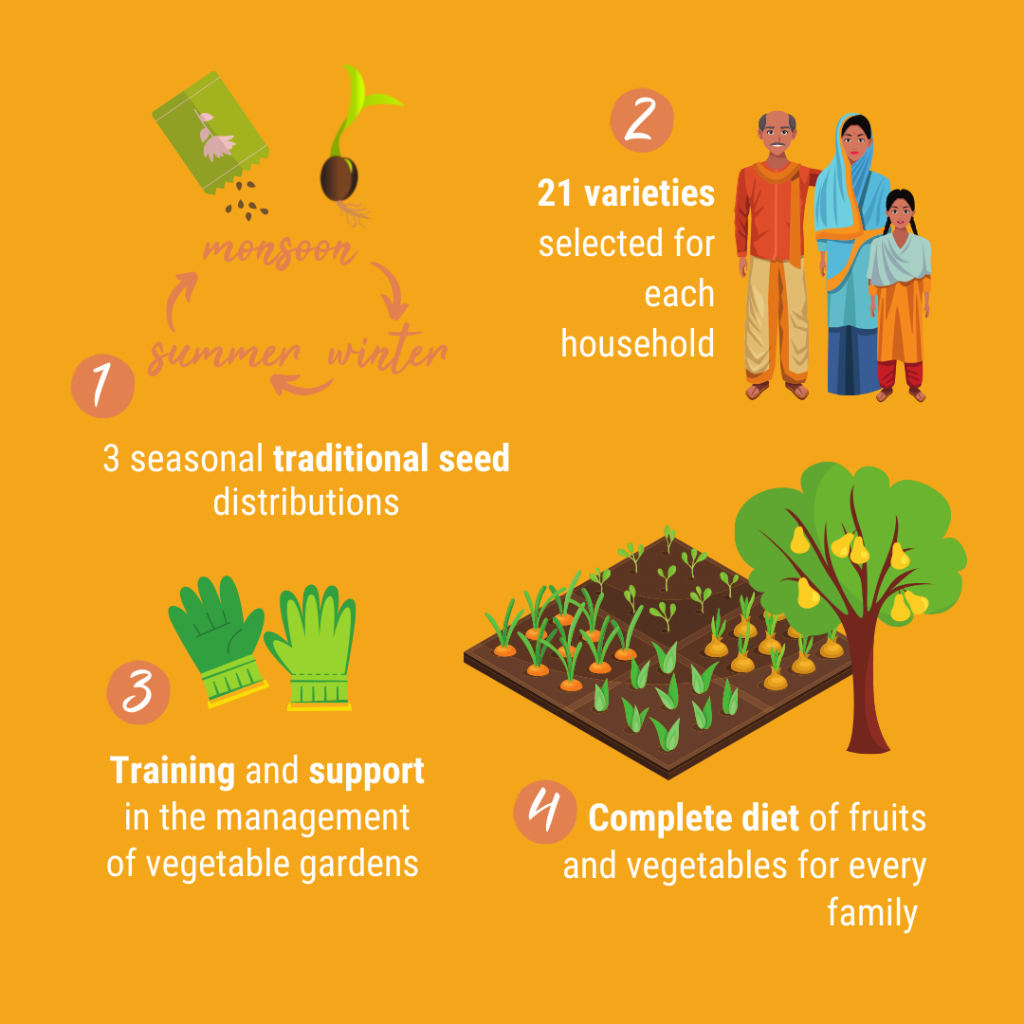 To address these issues through concrete solutions and bring about positive changes in rural communities in Bihar and Jharkhand, Karuna-Shechen is deploying a series of interrelated programs to ensure food security for the poorest: vegetable gardens, nutrition gardens, drip irrigation, wells, retention ponds, small dams and culvert construction.
Organic Kitchen Gardens for Better Nutrition
The Kitchen Garden program is an initiative to promote self-sufficiency and increase the nutritional value of meals through home-grown vegetables. We provide seeds and vegetable seedlings from our nurseries to rural populations to help them grow a vegetable garden in their backyard. This allows the beneficiary families to eat a balanced and diverse diet and lead healthy and nutritious lives.
Previously, we didn't have a vegetable garden and we used to buy vegetables from the market, but since I started growing the vegetable garden, we have enough vegetables for our family throughout the year. We used to spend money on vegetables but now that we have vegetables in our own garden, we save money on our vegetable expenses. ~ Satrughan Sardar


Community Driven Development Method

The program launched by Karuna-Shechen India starts with a meeting during which we explain to the rural communities the role of vegetable gardens as a powerful tool in the fight against hunger and malnutrition. We ensure that the community clearly understands the program and the role of our organization in supporting the beneficiaries. Next, vegetable seeds and traditional fruit plants are distributed at highly subsidized rates among disadvantaged households, patients in our health centers, and students in rural schools. The involvement of the beneficiaries is essential for understanding social and environmental factors such as seasonal changes in seed selection and distribution at the right time according to climatic conditions.

Gradually adopting a holistic approach to the program, the teams in India eventually introduced the Nutritional Garden program with the goal of strengthening organic and profitable gardening and farming practices. Farmers receive drip irrigation kits, including a 500-liter water tank, as well as seeds and vegetable and fruit plants with a unique registration. They are also trained in mushroom cultivation and organic compost management.
Water harvesting for households and farmers
In India, Karuna-Shechen installs rainwater harvesting systems, a traditional technique that transforms rain into a reliable source of water for domestic and non-potable needs of families. Our teams in India install 1,000-liter water tanks in schools and villages, as well as 500-liter domestic tanks next to families' homes for laundry, sanitation, and watering vegetable gardens. To help farmers during the dry season, drip irrigation systems have been set up, so that they can use water efficiently while growing more crops(65-75%), less weeding (80% savings). An adapted solution is proposed to each farmer, depending on the layout of his land (well, reservoir).
Conclusion
Karuna-Shechen pays particular attention to ensuring food security for the most vulnerable populations in India and Nepal. Our programs in this area, which contribute to a better general health, have benefited more than 320,000 people in 2021.
In the current Covid-19 health crisis, declining incomes, poor implementation of social protection programs and school closures have increased hunger in India tenfold. To best meet immediate needs, but also to anticipate long-term demands, it is necessary to develop nutritious and sustainable agricultural production alternatives for people and the environment.
Together, lets contribute contribute to this program
to to accompany the populations of Jharkhand and Bihar
toward a more sustainable food system.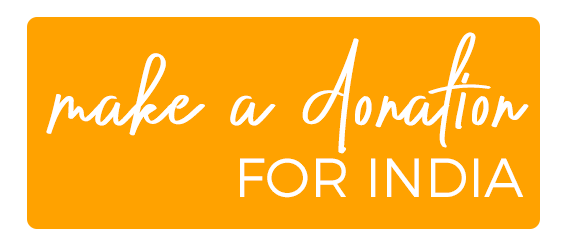 ---
Learn more