Almost two years ago, Karuna-Shechen launched its first program in France, in partnership with the association Mindfulness Solidaire. "Resilience" is intended for people who work in the field of "care", i.e. care, accompaniment and/or assistance to people. The first sessions were held with members of the SamuSocial de Paris association. From now on, the course is open to all professionals in the social or medical fields, within an institution recognized as being of public utility.
Discover the Resilience Program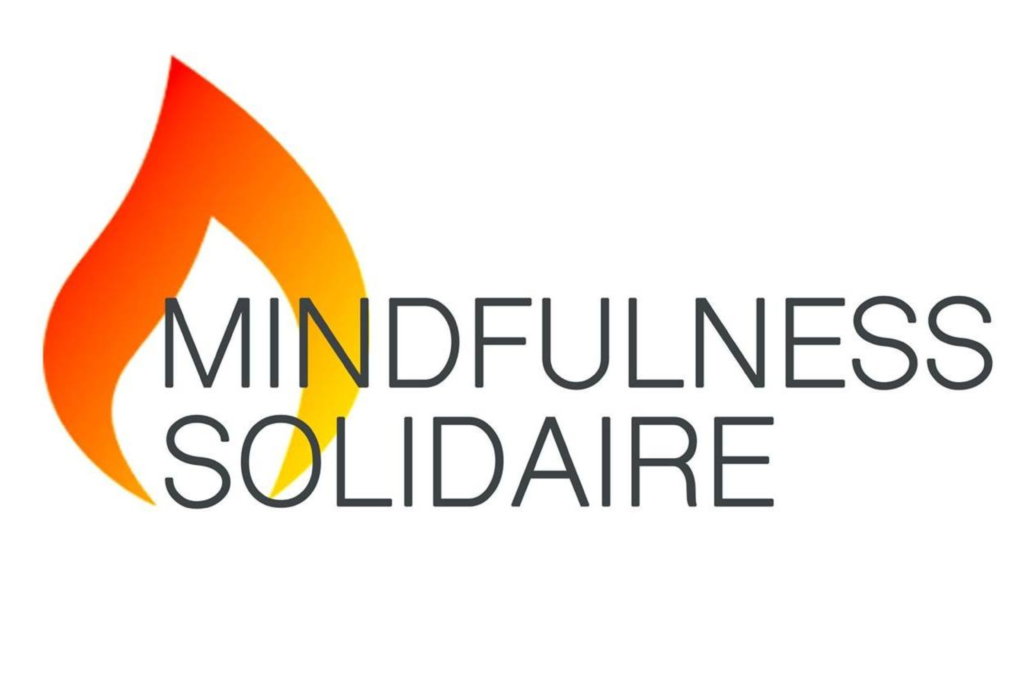 Resilience is about sharing and experiencing emotional intelligence tools to prevent empathic distress and develop self-compassion. Each of the eight sessions focuses on a specific theme such as change and emotional management, working with pain, or forgiveness. The two hours per week are divided between secular meditations, talking circles and mindfulness methods.
Preserve yourself to better help
Jobs that involve taking care of others are particularly difficult, both physically and psychologically. Numerous studies have shown that the stress generated by their activity negatively affects the quality of life of caregivers (resignations, reduced self-esteem, cardiovascular diseases, hypertension…) as well as that of the care provided (bad medical decisions, conflicts…).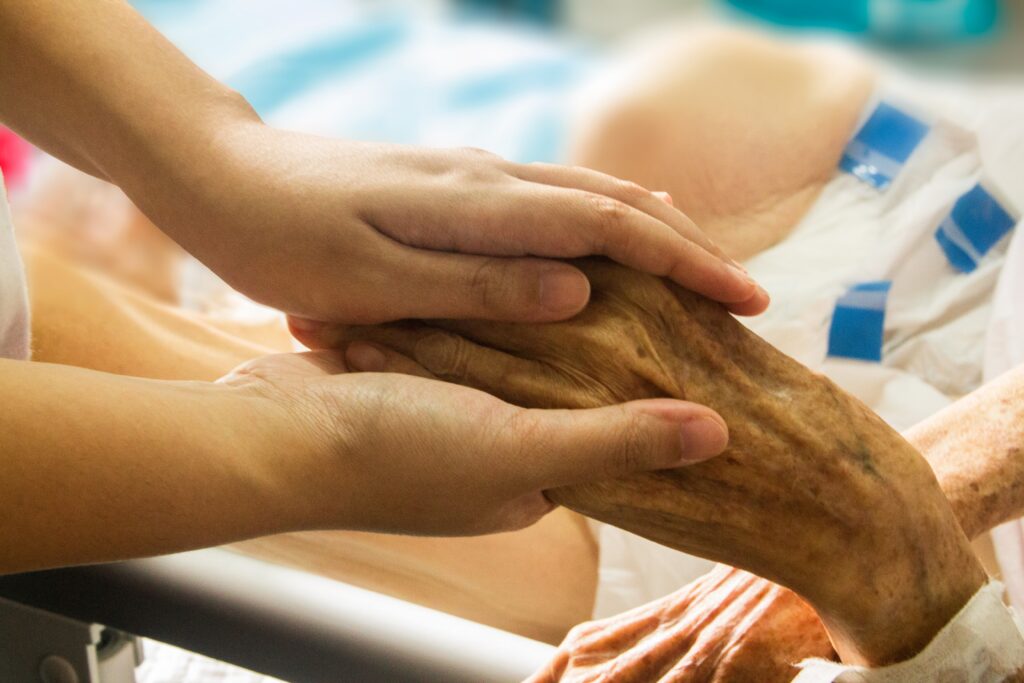 The main objectives of the Resilience program are to "develop one's ability to regulate stress and emotions, as well as one's ability to communicate and evolve in one's professional environment". The goal is to find a balance between taking care of oneself and taking care of the others in order to be able to continue to carry out one's work without falling into emotional exhaustion and empathic distress or, on the contrary, detachment and complete disconnection from the persons accompanied. The participants will experiment with the twenty or so mindfulness and emotional intelligence tools proposed in order to appropriate them and implement the ones that suit them best in their professional and personal lives.
Meditation is good for me, it is my breath of fresh air and it allows me to be much more available for the people I accompany. I feel like I am a locomotive.

Pauline, a social worker and participant in the Resilience program
Support the development of our projects in France
A rich and structured program within a caring framework of values
Karuna-Shechen attended the seventh session of a Resilience cycle alongside nurses, specialized educators, social workers and doctors. Frédéric Bonnard, MBSR instructor and professional coach, is leading this cycle, which takes place remotely for more flexibility. Today's session focuses on the art of communication.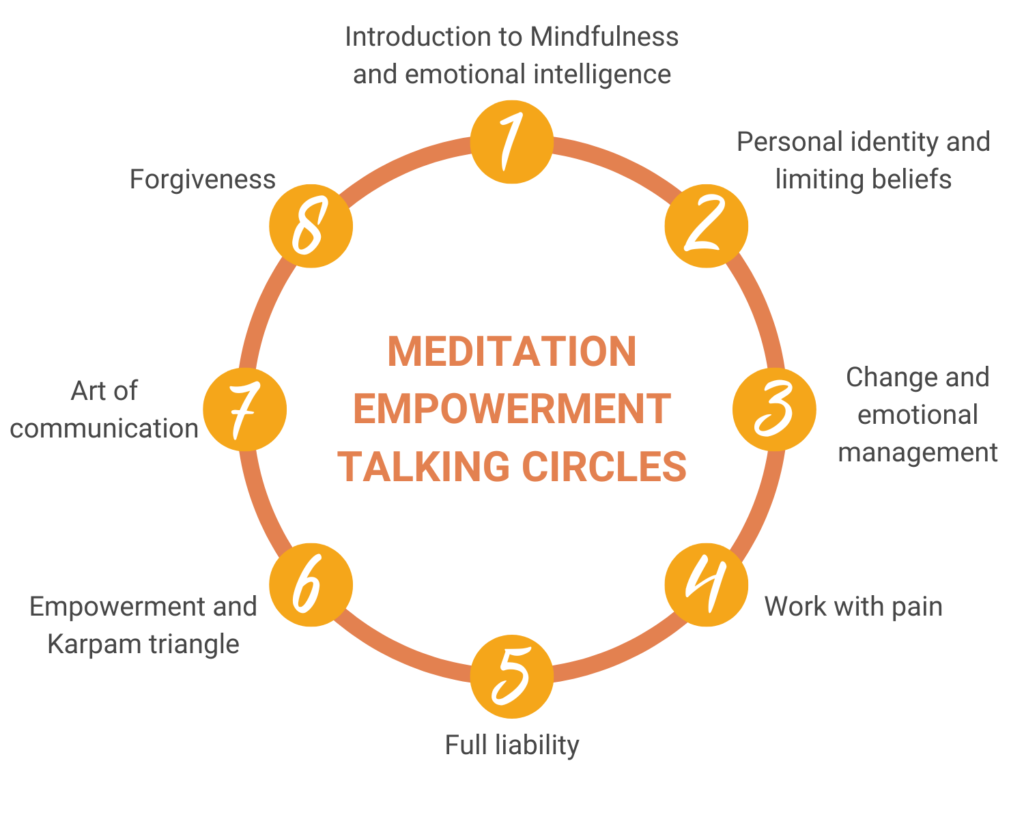 The values and requirements of listening, benevolence and confidentiality are recalled at the beginning of each session. This framework is essential for the creation of a free space for speech, which facilitates sincere and profound exchanges. After a secular mindfulness meditation, a talking circle was opened. Participants were then invited to share a difficult communication experience in small groups. This was an opportunity to analyze their emotions and reactions and to identify their needs. After an assessment in the whole group, Frédéric presented useful tools to facilitate their exchanges and discussions: here, non-violent communication and impeccable speech. Each one will be free to use them in their daily life. Once the explanations and the debriefing of the two hours were over, the session ended with a final meditation.
Frédéric's word on the Resilience program
This program is unique because it combines both mindfulness (paying attention to the present moment) and empowerment. The development of self-awareness becomes a gateway to transformation. In addition, the collective practice of the talking and listening circle allows for open and sincere expression, as well as attentive and empathetic listening in a caring environment. In addition, we use a practice that I am particularly fond of: dyads with generous listening. This consists of listening for a long time to your partner, one after the other, in silence and without intervening. It is really about accompanying the participants collectively in an awareness and an individual transformation.
As an instructor, I position myself as a participant, just like them, who shares tools and practices that we have been experimenting with for years and that we make available to them.
I live the program with the participants. I am not a knower, a guide, a companion or a facilitator. This is one of the keys to the functioning of this program.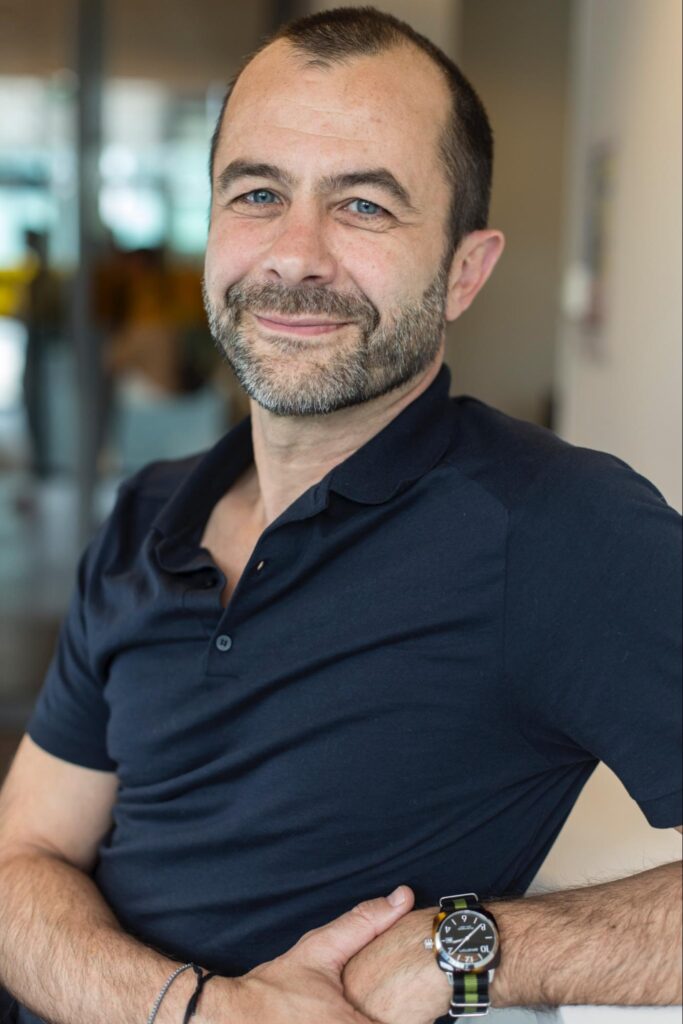 Pauline works with isolated, homeless, drug addicted or migrant people. After starting meditation on her own, this Belgian social worker met Karuna-Shechen during the Emergence Days 2021. This is how she discovered Resilience and signed up for the end of 2022. Participating in Resilience was a way for her to broaden her field of observation by meeting new people who work in the same field as her.
According to Pauline, the major advantage of Resilience lies in the richness of the program, built around relevant tools that can be applied in concrete situations. The structure is very understandable and makes it possible to see the links between all the themes of the sessions. To her, all this work is facilitated by Frédéric, who is a real benevolent driving force for the group. "Frédéric speaks to us in a real way, which makes us want to respond by speaking in a real way too," she says. "It is these sincere exchanges that allow us to gain confidence and progress serenely".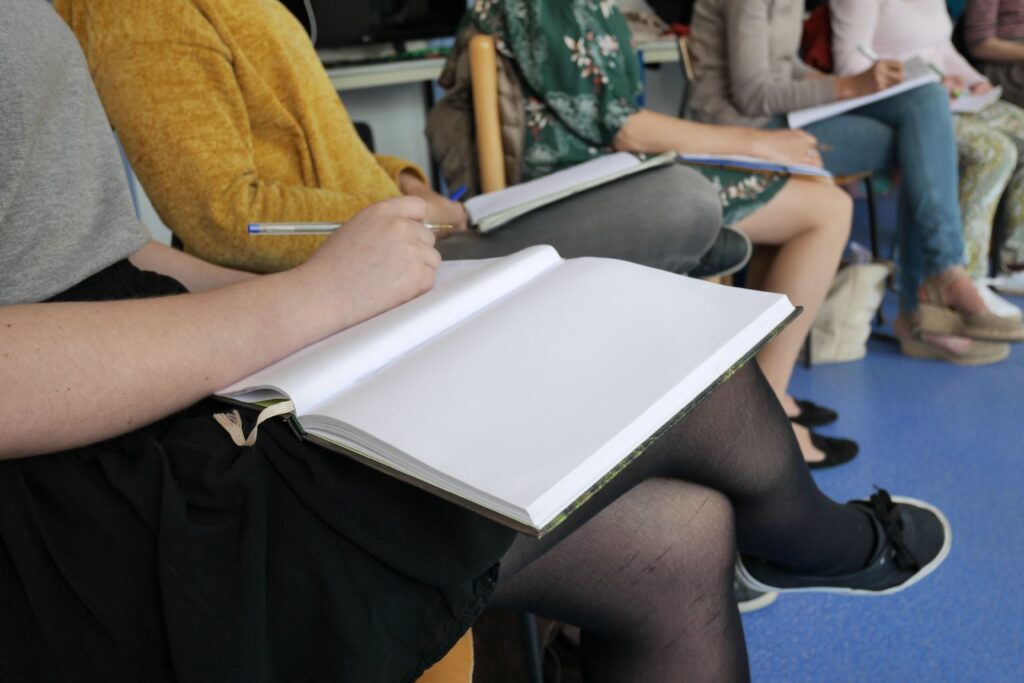 Learn more about the benefits of meditation
Integrating meditation into life and society
Emily is a special educator for people with disabilities and is currently training to become a service manager. She has been practicing meditation for a few years and recognizes the benefits of the Resilience Cycle: in seven weeks of the program, she has not smoked a single cigarette. Beyond this aspect, meditating daily allows her to progress little by little in the management of her emotions and in the work she does on herself. According to Emily, the many tools presented are accessible and usable on a daily basis, which is what makes them so useful.
We should bring meditation back into life and into society. It would do us all a lot of good.

Emily, Resilience Program Participant

Sabrina left the hospital environment to preserve herself and now works in a social action center with people in need. This nurse decided to participate in Resilience to learn to respect and express her limits. Participating in the program has helped her to step back from the situations she is confronted with more easily and to better cope with difficulties. The program was also an opportunity to acquire new skills that would be useful professionally. In particular, she would like to smooth out the health programs by incorporating what she learned during these weeks.
I'd like to integrate these tools into health programs that are sometimes overly burdensome,
to soften them.

Sabrina, a nurse.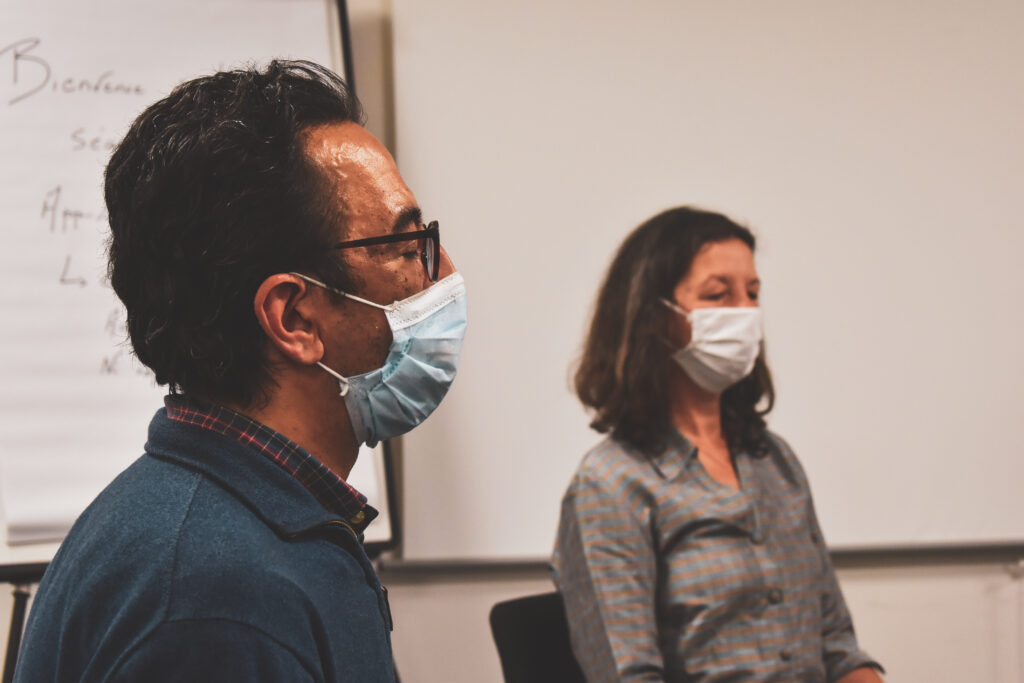 Like her, Emily and Pauline wanted to test these techniques on their own in order to evaluate their effectiveness, make them their own, and then be able to pass them on to the people they work with. In the same spirit as Mindfulness Solidaire, they would like to adapt what they have learned to bring it to a public that is usually far from these practices.
---
With its rich and varied content and its concrete and accessible tools, Resilience has enabled its participants to learn to respect their limits and regain confidence in their abilities and decisions. In 2023, the program will continue with SamuSocial social workers and health care staff. Through collaborations with new associations, it will also open its doors to people in professional integration and to isolated people.
Whatever our profession or situation, the Resilience Project reminds us that taking care of ourselves should not be a luxury or a source of guilt but rather a necessity.