Considered for long – and still now – as a taboo, periods more than ever reinforce gender inequality in today's India. While various governmental and non-governmental initiatives have ameliorated the menstrual hygiene situation in the country over the last decade, the Covid 19 pandemic is feared to have adversely impacted much of the gains made in the issue of Period management.
A global taboo that impacts education, health and the environment
Discriminatory socio-cultural norms like prohibition from entering the kitchen, participating in religious practices and festivities during menstruation continue to exacerbate gender inequality, mainly in the education and health sectors. One of the main areas affected by period management is school attendance. Indeed, 23 million Indian girls drop out of school when they start menstruating, while the ones that continue their education miss out on school for an average of five days a month. This is due to societal taboos but also access to menstrual products – that many Indian women cannot afford – and lack of adapted infrastructures, such as separated toilets for girls only.
Moreover, in most parts of India, secrecy, shame and misconception around menstruation result in the poor and illiterate women using shocking alternatives to hygienic menstrual products like rags, dirty cloth, old blouses and even husk. As a result, a large number of women suffer from Leukorrhea, a disease which is caused primarily due to unhygienic menstrual practices. Finally, the lack of awareness around periods leads women to buy plastic-bend pads at best and throw them away in nature instead of disposing of it in an environmentally-friendly manner.
Many women do not burn the used sanitary napkins but just throw them here and there. This makes the surroundings dirty and creates environmental pollution.

Priyanka Kumari, Karuna's Community Health Mobiliser in Bihar
Solutions introduced by Karuna-Shechen – between distribution and awareness
In order to overcome these environmental, health and education issues, Karuna-Shechen took effective measures to raise awareness and accessibility to hygienic menstrual products through the Women Health and Hygiene Program. As early as 2014, we started conducting menstrual health awareness in schools and rural communities within our intervention areas. At the same time, we provided sanitary napkins to women and girls to ensure that they had accessibility to hygienic menstrual products. We also installed incinerators in schools to enable hassle-free and eco-friendly disposal of used napkins.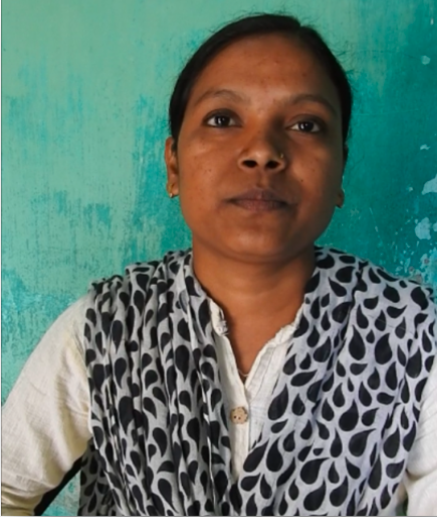 Putul, 30, lives in Kharaisa village in Jharkhand. She has been a beneficiary of our women health and hygiene program for quite some time now.
She shares : "Before, I did not use sanitary napkins as they are costly. But now Karuna provides me with them. This has made my life easier. Also, after Sheela di (Karuna-Shechen staff) started conducting regular meetings with me and other women of my village, I no longer felt uneasy to talk about periods."
Why the Covid Pandemic hit women even greatly ?
Owing to the lockdowns and continued closure of schools, where most adolescent girls get access to sanitary napkins, the supply chains of pads were greatly disrupted. Cut off from the towns and with little or no supply in local shops, women and girls in remote villages hardly had any access to sanitary pads during the lockdown.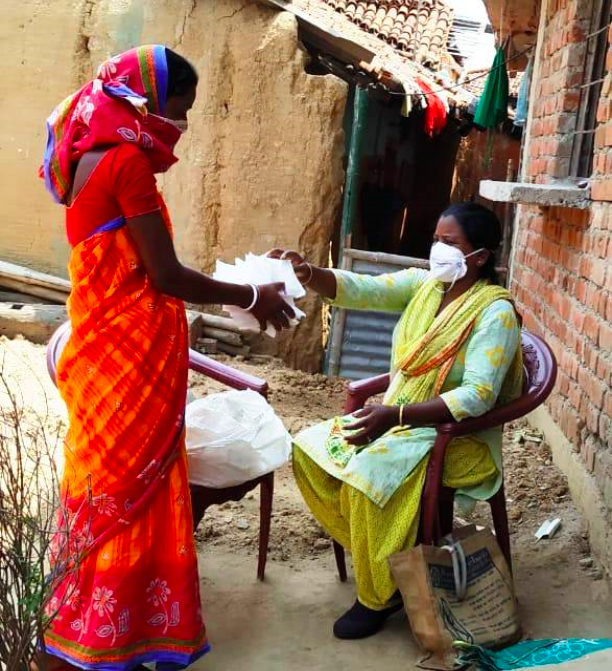 As Karuna India needed to identify the women and girls who required sanitary napkins, they asked for the help of community workers that worked on our women literacy and child education programs, as they had a direct link with women and girls. Thereafter, our drivers played a crucial role in the distribution process. In compliance with lockdown guidelines, the drivers were required to provide the requisite supply of sanitary napkins to our community-level staff and return to the town latest by 7 pm. To ensure everything was done on time our drivers often left their houses as early as 4am, so that they could reach office in an hour. In Bihar, for example, we operate in more than 90 remote rural villages where access is very difficult, within a maximum radius of 70km.
Apart from continuing with the uninterrupted supply of subsidized sanitary napkins to our existing beneficiaries, we also ensured that menstrual pads were distributed, among other essential items, through our Pandemic Relief packages. In the three-phase Relief distribution since June 2020 and until now, we have provided almost 100,000 sanitary napkins absolutely free of cost to urban and rural destitute women.
A new response that empowers women and preserves the environment
With the progressive deconfinement, Karuna-Shechen India is able to conduct menstrual health awareness in schools and rural communities in Bihar and Jharkhand again. Since plastic-laden sanitary napkins are non-degradable and impose serious waste management and environmental problems on the society at large, in 2019 Karuna introduced reusable Cloth Pads to promote sustainable menstrual hygiene management. We have therefore incorporated the component of sensitization on eco-friendly and washable Cloth Pads in our Women Health education activity.
Young girls tend to prefer cloth pads to sanitary napkins as they are quick to appreciate the eco-friendly aspect and long-term reusability of cloth pads. These girls spread word among their peers.

Priyanka Kumari, the Community Health Mobiliser in Bihar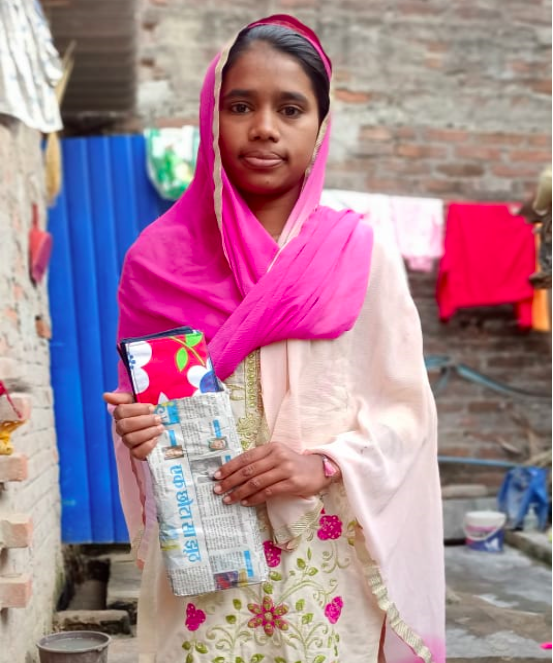 One of our significant programs of Vocational Training remains the Cloth Pads sewing training, during which women are trained to use a sewing machine and learn how to make their own reusable pads. A session is also dedicated to the use of these pads to ensure that they are washed properly. Thanks to the training, many women can get a job in stitching cloth pads or start their own business. The program enrolled 63 women in tailoring. It is an opportunity to transfer the knowledge to the women, empower them through the technical training and also help them to be self-sufficient. In the end, Indian women are able to deal with their periods independently, in an eco-friendly and cost-free way.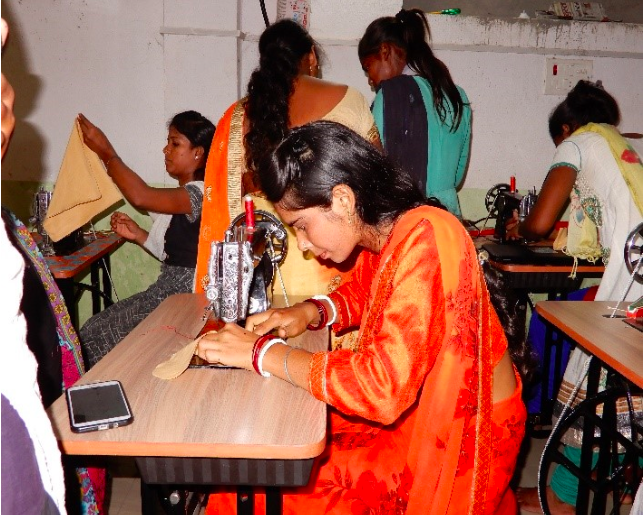 Baby Devi is one of our trainers in tailoring and stitching. She shares : "I have been working here for the past 2 years teaching young girls and women the art of stitching. Women are in no way inferior to men. Some are earning money by stitching Cloth Pads. Some others use the knowledge I teach to start their own taylor business. I just want to give out the message that every woman should become financially independent."
Last year, Sunita followed Karuna's training. It taught her stitching, tie-dye and also computer skills. Since the covid crisis hit, she has been employed by Karuna to make cloth pads. She expresses herself about the importance of learning vocations taught for women in order to be independent : "Now I make cloth pads for the beneficiaries of Karuna-Shechen and I use the money that I earn to support my family financially. I want girls to learn the vocations taught here and use them to become self-sufficient."
---
Karuna is committed to helping women and girls start conversation around the taboo topic of menstruation, boosting their confidence and fulfilling their long unmet menstrual management needs.
Let's take action against 'period poverty' and empower women to lead stigma-free, informed, dignified and healthy lives !