Lisa, 34 years old, is originally from Angers, France. She tells us about the origins of the solidarity project she dedicates to Karuna: I lived in Paris for 12 years. I decided to leave this hectic and often very stressful life to pursue a dream of simplicity and freedom. In 2019 I hiked the Pacific Crest Trail in the U.S.A. (4,240km in 5 and a half months) and discovered the joy of wandering, minimalism and long-term physical effort.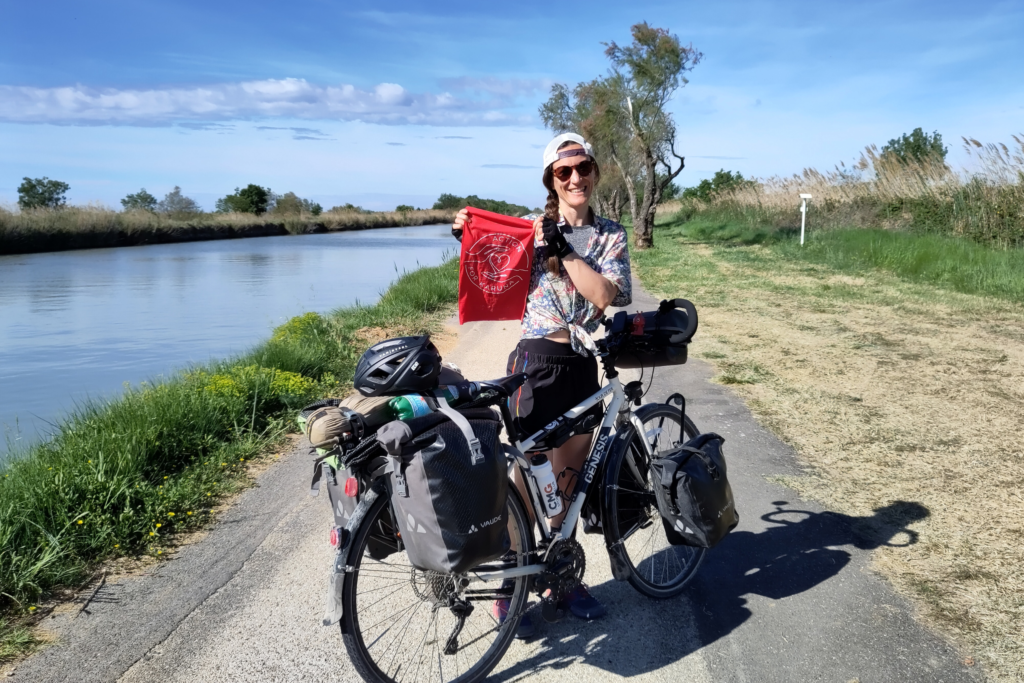 The two years of sanitary crisis had a catalyzing effect on my desire for nature, time and discovery of other worlds. So I decided to embark on this great cycling adventure with no knowledge or experience of cycle touring, no time frame and no destination. But the adventure would not have as much flavor or surprise if everything was planned. On the way, I would like to be able to join participative workcamps in eco-building, to feel useful and to learn more about this field which attracts me a lot.

I named my project VélOstruction: a mix of bike and construction work in French.
How did you choose to get involved with Karuna ?
On the PCT, I walked under the colors of the NGO Sea Shepherd for which I collected donations. For my VélOstruction project, I also needed to give meaning and participate in my own modest way to the construction of a world that I would like to see in the future. So I turned to an association that I have been supporting through donations for years: Karuna-Shechen. An organization close to my heart since Matthieu Ricard has allowed me, through his books, to better understand and cultivate altruism and happiness in my life.
Which emotions do you link with meaningful projects ?
Whenever I left a company, I always refused to be given a gift. So I got into the habit of asking my colleagues if they would donate to an association that is dear to me. My colleagues have always been extremely generous and curious about the actions of the associations I support. This has always made me feel very happy to see my commitments shine through to my colleagues.
When I was walking the PCT, every donation made to my Sea Shepherd fundraiser gave me enormous courage to continue.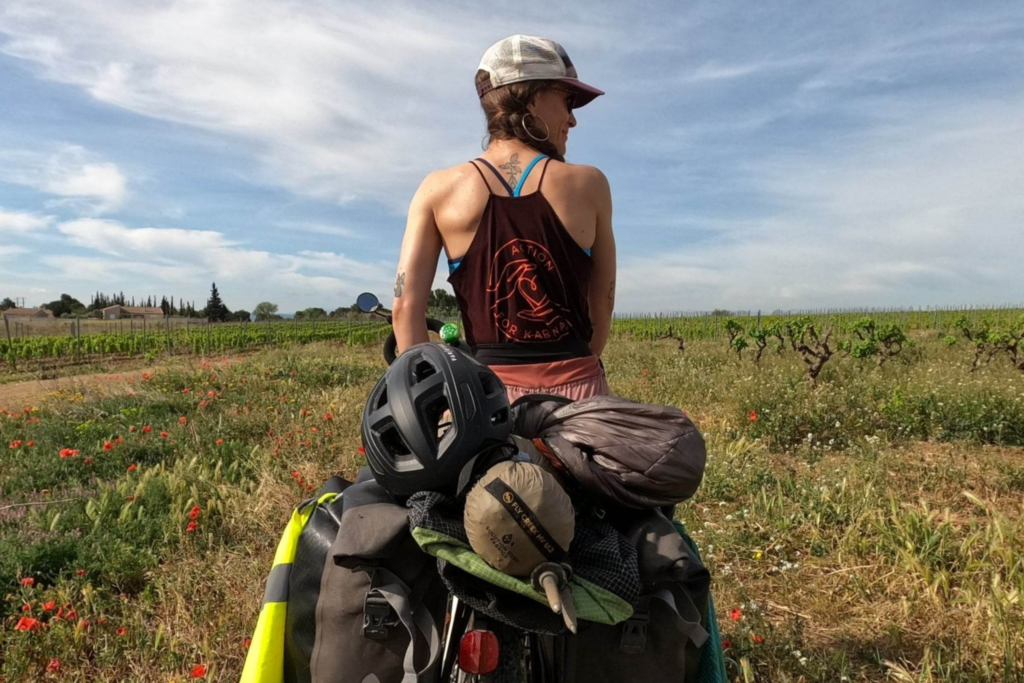 Each time, I have the feeling that I am making a small contribution to a world in which I deeply believe. This makes me feel good and encourages me to be more persistent in undertaking this type of action. This finally constitutes an incredible virtuous circle.
As Lisa testifies, getting involved can bring out a deep joy, which does not detract from the altruistic nature of our action. We can recognize and welcome this satisfaction, this sparkle of the heart that puts itself at the service of others. We talk about it in this article.
How does getting involved feeds your bonds and the way you belong ?
My solidarity commitments allow me to give more meaning and adequacy to my values. I feel more coherent and am therefore much more at ease with my loved ones or with the people I communicate with about my actions. Thanks to these commitments I feel better understood and better integrated socially.
Does your commitment have a cost for you?
My associative commitments often take up a lot of my time and energy, for a concrete effect that can sometimes seem disappointing. However, I feel overall more drive, meaning and inner balance by continuing to be involved. I could no longer consider my life without this structuring and determining part.
Leaving on April 20th, Lisa is moving forward on the road – physically and symbolically! She was afraid, but she took the plunge: On my own, who doesn't really know how to ride a bike or change a tire, who knows little about eco-construction or permaculture, I'm not really going to have an impact and I may not get very far. But if there is one thing, well two things, that I believe in, it is outreach and the collective.
Support Lisa's project