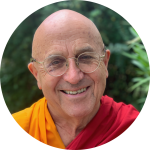 We tend to take the "we'll see when we get there" attitude. We are even less inclined to take into account the environmental effects of our way of life on future generations. We often refuse to consider going without instant pleasures since it means envisaging disastrous consequences that will most likely happen in the long term.

Matthieu Ricard ~ Altruism
From 1st – 14th November, governments, companies and civil society gathered at Glasgow in Scotland for COP 26. Whereas the climate crisis has already had an impact on millions of people globally, country representatives must take responsibility and offer tangible solutions to ensure the wellbeing of humans and the 8.7 million species living on the earth. To do so, the debates are centered around two main themes:
Finding solutions to adapt to climate change, in order to protect people and natural species.
Acting together and cooperating to restore ecosystems and imagine more resilient and respectful ways of life for the environment.
Adaptation and cooperation are particularly aligned with the actions developed by Karuna-Shechen in India and Nepal. Our programs assist local populations so they can adapt to daily issues, by guaranteeing the access to safe water, solar panels or organic farming. Those environmental, entrepreneurial and educative projects are led by the villagers themselves, as they are committed to the global stake of climate change and act together!
We can take action for the planet!
Together, let's support Indian and Nepali communities.
---
Karuna proposes local solutions to take on the climate challenge
In both India and Nepal, the consequences of climate change are already significant: challenges related to water shortages, droughts and floods are omnipresent. To face them, Karuna-Shechen accompanies rural villages in the implementation of tailor-made projects based on environmental adaptation and cooperation.
Adaptation to strengthen communities' resilience
In India, the states of Bihar and Jharkhand where Karuna-Shechen operates are located in an area suffering from both strong episodes of drought and an insufficient rainy season: they are observed by long periods of water shortages during the year, but also by floods due to violent monsoons (to learn more). The drastic reduction of groundwater table is thus a major priority for the local populations. Nepal also faces the effects of climate change and deforestation, exacerbated by rapid urbanization and the construction of new roads. People in the Kathmandu region experience "mountain tsunamis" and weakened landslides: as ice melts, it releases glacial lakes that can submerge entire valleys (read more).
To face these multiple challenges, Karuna-Shechen supports local communities and works with them to develop tailor-made projects. For example, to counteract periods of drought in India, Karuna accompanies villages through the program "Small money, big change". By building with them water retention ponds, wells or small dams, it not only supplies villages for their daily needs, but also rebalances the underground water reserves. Reshmi Devi, who participates in the construction of a pond in her village to irrigate crops, testifies, "I am so happy that now we are not worried about the lack of water in summer!"
And it goes far beyond water constructions, as this initiative encompasses multiple humanitarian challenges such as village electrification, its equipment in latrines and many other projects that will meet the needs of the villagers as closely as possible. Between 5,500 and 8,500 people benefit from this program each year!
Cooperation to build an environmentally-friendly world
La coopération est un levier essentiel pour faire face au changement climatique. Cooperation is essential in facing climate change. Karuna-Shechen has adopted an approach centered on community-driven development: it is by listening to the needs of the people that we can set up projects that provide solutions, that will be supported by the whole village and in which everyone can adhere and take part. This method not only creates a real bond between the village and Karuna's teams, but also ensures the sustainability of a project: if the infrastructure built meets a real need, then it is much more likely to be properly maintained over the years.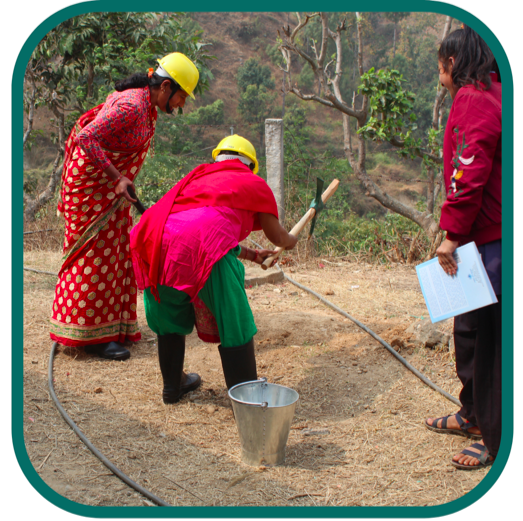 Rishikant Bhushan, coordinator of the "Small Money, Big Change" program in Bihar, says: "What I appreciate most about 'Small Money, Big Change' is how it engages the entire community to optimally utilize the local resources for their development. I feel a sense of achievement when I witness how the entire village unites to participate enthusiastically at every stage of the program."
The people we support are looking for resources to better understand the challenges of climate change, as well as the means to repair ecosystems. Karuna-Shechen acts as a facilitator, but it is the villagers and their commitment that are truly the solution.
For example, Karuna proposes to the communities in Nepal – both adults and teenagers – to participate in "eco-camps". These workshops implement initiatives such as tree plantations, awareness-raising sessions, campaigns to protect local biodiversity, or even waste collection operations. The goal of the project is to encourage everyone to understand and take up the climate challenge. Sabitri, a resident of Bhangaha, says: "After participating in Zero Waste, I learnt that the more we manage waste materials, the more we can avoid various diseases. This initiation is good and I think such lessons should be implemented in our village and society as well."
---
Reshmi, Babita & Rakesh talk about their experiences
We all knew that digging a pond in our village was the answer to our water crisis, but it required a huge monetary investment which was impossible for our community. So when Karuna asked about our problems and how we can solve it together, we sought their support.
This year, our dream project finally became a reality ! I am elated that from now on we will not have to spend our days worrying about irrigating our farms during the summers.

Reshmi participates in the "Small Money, Big Change" program in her village of Sundarkumhari, India.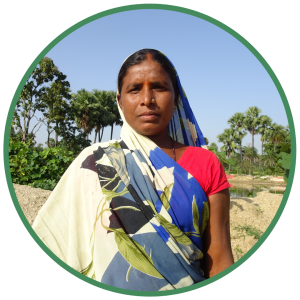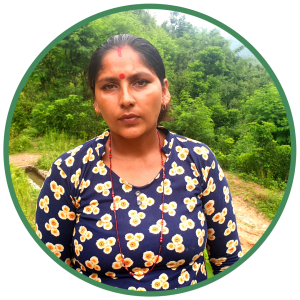 I really enjoyed the tree plantation program. We planted saplings and will also plant the plants provided by Karuna to the nursery today. Earlier, I also participated in a bamboo plantation program. I think such programs are very important because plantation on barren lands would be a good use of it and would also provide employment. One can grow fruits and eat them too. In the coming days, if we get more plants and do the same incredible job then we would be able to grow, produce and make a living out of it."

Babita participates in the "Forest Plantation" project in Sindhuli district, Nepal.
When I visit Kurmawa, the villagers come up to me to tell me how the pond helps them both individually and collectively. They can now grow crops throughout the year. Another huge advantage of making the pond is that the livestock have a permanent source of drinking water. This is a big relief for the villagers as livestock contributes considerably towards farming and rural livelihood. Like the Kurmawa pond, all projects under Small Money Big Change help communities in more ways than one.

Rakesh Kumar is a block coordinator for the "Small Money Big Change" program in India.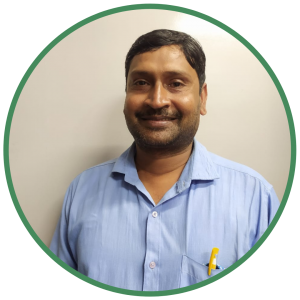 You too can take action by supporting their projects!
---
The climate challenges and the COP26
"It is at the local level that adaptation must be implemented, as close as possible to the populations, activities and ecosystems concerned. For this, decision-makers and public and private actors must have robust diagnostic, planning and monitoring tools. Governments must play a full role in strategic management and support. For the transition to be fair, adaptive measures must not deteriorate the initial conditions of well-being or lifestyle. The question of support and solidarity must be raised, because the capacity to adapt is very unequal. Priority issues must be identified with all stakeholders and the territories concerned." Matthieu Ricard ~ "Cooperation vs. competition", Altruism.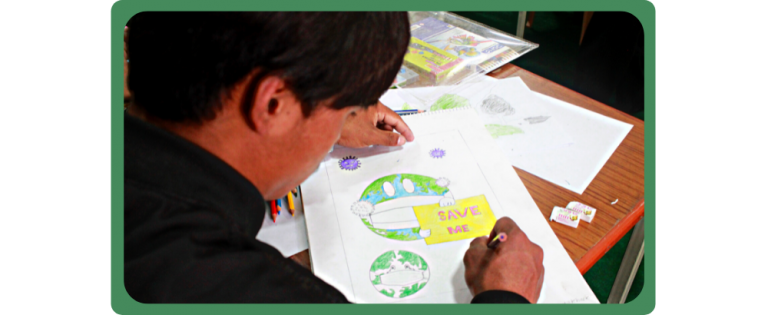 According to a study conducted by Stephen Pacala – Princeton University – 7% of the world's wealthiest are responsible for half of the world's CO2 emissions, while 50% of the least affluent emit only 7%. This parallel shows the disparity of responsibilities regarding environmental issues, responsibilities that are all the more notorious when we see that it is the least well-off who are the first to be affected by climate change. Following COP 26, the issue of climate justice is essential to understand the interactions between countries.
The earth took between 5 and 10 million years to warm up by 5°C, while in 50 years the temperature has risen by 1.5°C. Johan Rockström, a researcher at the Potsdam Institute, writes "Transgressing planetary limits can be devastating for humanity, but if we respect them, a bright future awaits us for centuries to come." He gives us two reasons for optimism: the possibility of replacing fossil fuels entirely by 2050 with renewable energy, and the equally possible advent of a "triple green" agricultural revolution.
Although countries commit themselves at each climate conference to reduce their environmental impact, the ambitions are generally too low and not innovative enough, because implementing drastic measures for the environment would not be popular. Political representatives seem to be guided by their desire for re-election, which explains the lack of concrete and ambitious commitments. To face the global problem of climate change, all countries must work together to build a common vision, which will then be translated at the local level in cities, regions, companies and individuals.
Learn and share, as it is also a commitment
---
Some resources to learn more